Marching Band ceases to join in competitions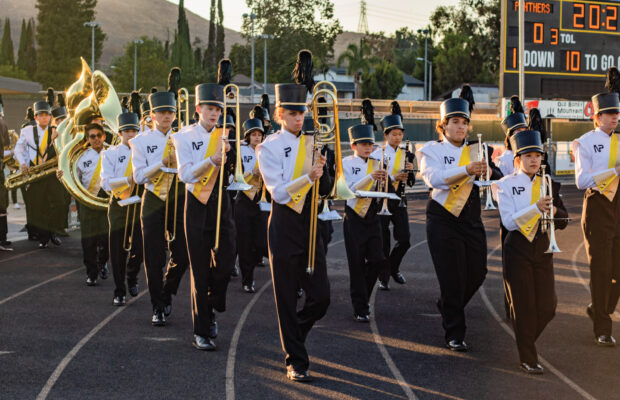 In past years, band students at NPHS learned a marching band routine that they performed during halftime shows at football games and competed in competitions. Thousands of dollars were spent transporting equipment and students, and on professional choreography. Due to reduced student interest, this is no longer the case.
Dennis Crystal, band director, explained that the band continues to play at school events and local parades. "Prior to COVID, we had a competitive marching band, [but] since then we have not been able to reconstitute that group because there are just not enough kids to do it… We relied very heavily on family donations to make [field shows] happen."
Crystal recalled how COVID-19 affected the band's ability to practice and recruit new members. "We obviously couldn't do marching band over distanced learning, it just didn't make any sense," Crystal said. "So [in 2020], nobody came into marching band… during last year's band camp 12 students came, and we would normally have 45-50," Crystal said.
Daniela Palomino, senior, participated in the competitive marching band as a freshman. She traveled to various competitions to play and be measured against other schools. "We've always had a small program but [marching band now] is more… just playing at the football games. It's more low-key than actual competitive marching band stuff." Palomino said.
Due to the low number of students participating in marching band, Crystal opted for students to perform at the winter musical last year. Thomas Berg, junior, participated in the performance. "It was a new experience and I was a little on the verge of 'Do I want to do this or not?' because it was such a different experience," Berg said. "But when I got into [it] and I started to learn the music and see the dances and choreography, I felt like I was a part of something bigger than just a band."
Crystal summarized the current state of the marching band. "What we have now, which is still marching band, is a group of musicians that are in uniform and they're marching from place to place playing music- but focusing primarily on the function of playing at the home football games or pep rallies… None of [these] performance opportunities require the same degree of intensive practice and financial contributions." Crystal said.