Moorpark College struts into a production of "Kinky Boots"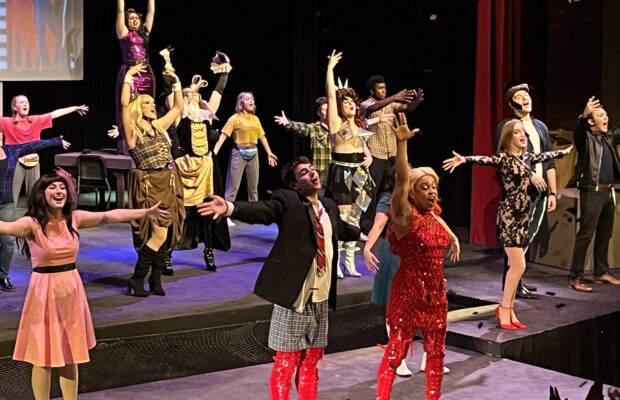 Featuring music and lyrics by Cyndi Lauper, Moorpark College opened the dazzling musical "Kinky Boots" on Thursday, March 10. The 2012 hit show is a true model of entertainment with its catchy melodies and slow-motion fight scenes, while also addressing stereotypes of transgender and queer people.
A humble shoe factory within England has been left to a passionless, and now fatherless, young man named Charlie Price. While on the verge of the company's downfall, Charlie runs into an electrifying drag queen known as Lola who sparks his new business venture: the production of flashy stiletto boots. He brings on Lola as a designer, but the pressures of the outside world, such as his demanding fiancee, unmanageable employees and bigotry just may crush the company and everyone involved.
The Moorpark College stage was impressively dynamic. It transforms from a worn down shoe factory into a colorful and flashy music bar before the audience's eyes. The set was cleverly two levels high which allowed actors to fill up the entire stage. The lighting was also an impeccable factor of the show. During the more uptempo songs, the lights turned the numbers into what felt like an immersive music video. Within those same songs, the choreography truly stood out. It was sassy, extravagant and everything that should be a part of the dance numbers in "Kinky Boots."
The double casted show contains an adept ensemble, many of which presented Broadway-like quality. On the show of March 13, Celina Kott, an NPHS alum, played the female lead of Lauren. Her powerful voice and witty character choices easily make her one of the most lovable characters of the show. It is to no surprise that Christopher J. Thume, who stars as Lola, steals the spotlight anytime he is on stage. He perfectly encapsulates the fierceness, sensitivity and insecurity that complete the character of the lead drag queen. He owns every number he is in and sells the drama and comedy of the musical. But above all else, the show would not be whole without the Angel ensemble. Made up of eight diverse male actors, the Angels are the posse of Lola and never lack in
extreme and fashionable outfits as well as high heel boots no shorter than three inches. None of them shied away from embodying total femininity as they slayed every number.
The quality of the cast, direction and overall production value go above and beyond what the average person would assume a community college could fabricate. Moorpark College has always put on spectacular productions, and "Kinky Boots" strongly follows suit.