Ms. Hodson changed lives with love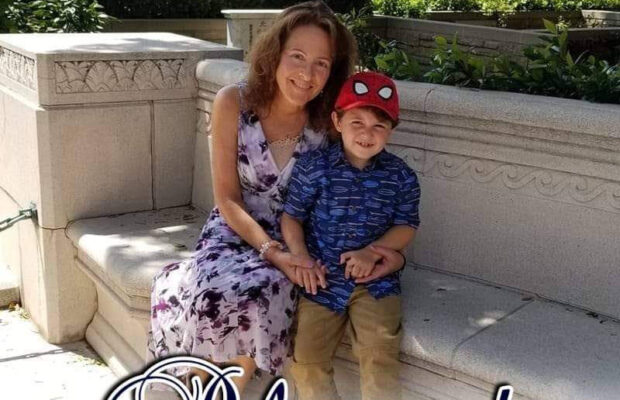 Teacher
Apart from sculpting her students academically, Christy Hodson forged them into stronger people. She was a teacher everyone wanted to resemble as she not only set high standards in English, but for one's character as well. Hodson had a passion for her job and a love for her subject that when together, was impossible to ignore. The advice and words of wisdom she shared will not end with her passing, and instead will carry on through her students. Whether they have already graduated from NPHS, or are still attending, her students affectionately credit her part in shaping the person they are today.
The transition from middle school to high school is often full of challenges, but having Hodson as a teacher made the shift much easier for Abigail Thuna, sophomore. Thuna felt fortunate to always have Hodson in her back pocket, even if the topic was not school related. "She just taught us to really be ourselves and not to be afraid of that, or worry about what others may think…She really helped me come out of my shell," Thuna said. "She was so incredibly hands-on with each and every one of her students. Every single one of her students was her top priority."
Hodson has been intertwined with her students reminiscing of their previous high school years, as well as their laughter. Thuna feels lucky to have experienced such a positive relationship, and how uniquely Hodson's class operated. "My first thought, when I think of her, is just, her quips and banter with students and her little fake little arguments she'd have [with students]," Thuna said. Hodson was able to also incorporate her passions into daily lessons, giving her students a break from the constant rigor of work. "During class one time, she brought us out to the quad. She got up on the stage and she just did her own little hula routine," Thuna said.
Jason Wu, senior at NPHS, noted that Hodson went above and beyond the standards of the education system to ensure that those within her life were doing well, and if they gave an indication otherwise, Hodson spent time either offering advice or being everyone's confidant. "She really took the time and effort to get to know us. It wasn't like the common feedback of exceeding or needing work or something like that,
she would actually take the time and talk to us and pull us aside," Wu said.
There are also many fond memories of Hodson's continual effort to push her students to their full capability. "There was a time when I was talking with some friends outside about how I completely did not try on my essay and she overheard and in the middle of the class she kind of exposed me, it was really funny," Wu said. "She was like 'you know, I heard a student outside and they just started talking about how they did not care about the essay at all' and all my friends just looked at me and she just laughed. And she pointed me out and it was really funny. It was just that kind of vibe where everyone was very supportive and fun."
Aidan Behar, a freshman at California State University Fullerton, had Ms. Hodson during his last year at NPHS and remembers her personality and demeanor in the classroom. "My first impression was that she definitely was a very, very kind soul, very gentle soul. Someone who was passionate about what they did. She had a very, very contagious smile [that] never left her face and that would just brighten my day sometimes," Behar said.
When the long periods started to take a toll on students, Hodson would take the class outside for breaks, something other teachers normally do not do. "We would actually sometimes take breaks in class and go outside for a walk," Behar said. "I remember when we would walk around, and I would just have a conversation with her. I think personally, I had this bond with her, in a sense, where I felt like I was able to just talk to her about what was going on in my life."
Hodson always reminded her students to be their best, kindest selves. Those students now feel especially inspired to do so, reflecting Hodson's significant impact on the lives around her.
"She made me see the world in a new, much more positive way. She was just this ball of positive energy with anyone she came in touch with," Thuna said.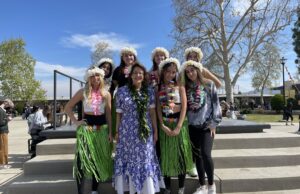 Hula – Ms. Hodson, featured with past members of the IB dance program, shared her love of Hula with other student dancers. "There was one day [where] we actually, a whole class, went out. She did a Hula performance for us, which was really, really cool," Behar said. Ms. Dogancay/With Permission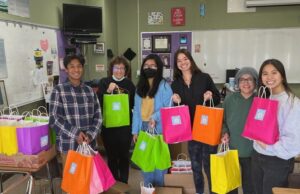 Support – Members of the Cancer Awareness Club, "She made sure that the kids in the club were passionate about cancer and cancer awareness," Nguyen said. Ms. Dogancay/With Permission
Community
While Christy Hodson was one of the key contributors to Newbury Park High School's reputation as "Nice People High School," she also spread her caring persona beyond her own students, and into clubs and other organizations. Hodson's remarkable ways have left strong impressions on different groups in Newbury Park, all of which treasure their time spent together.
In addition to being an incredible teacher, Hodson was also a key part of the NPHS cancer awareness club, and as the club's advisor, helped to ensure that every meeting was informational, as well as a comfortable place where anyone was welcome. Parker Shubin, junior, and treasurer of the club was able to build a strong connection with Hodson through the club's meetings. Shubin was always able to ask Hodson for advice, and knew that he would receive an impactful answer. "Knowing her as a club advisor, she was just such a remarkable human being really. She just had so much empathy for others and she just came to each club meeting with a big smile on her face. She was just always happy," Shubin said.
Shubin also recalls a unique experience he had with Hodson that demonstrated her willingness to connect with everyone and their struggles. She never shied away from sharing her own challenges if she knew it would benefit another. "Personally, she was actually one of the people who I went to deal with my struggles since I was actually diagnosed with a brain tumor, [which was] the reason I joined the cancer awareness club, and so having someone to talk to who went through similar things as I faced in my life is really really nice," Shubin said. "When we were going through adversity she went to me and I went to her and we both got to talk it out and help each other get through the tough times."
Hodson also expressed her spirit and passions through dance. 10 years ago, Hodson began taking hula dancing lessons from June Rust, who feels lucky to have had the privilege of watching the relationship between the other hula dancers and Hodson grow stronger, until it was as if they were family. "All her hula sisters are going to miss her terribly, because we always did a lot of things together. As a whole group we would perform together, and when someone was sad, we would all cry," Rust said.
Her hula family will keep their fellow dancer close to their hearts, as the group came together to perform a dance at NPHS Interact Club's Dance for Hope, honoring Hodson. "Well, [we danced] a song called 'Mapu Mau Ke'Ala', and we dedicated it to her because it's a song that a lady wrote about her best friend, and in the songs, she remembered the fun things they used to do. But at the end it says, 'even though you're gone and your scent will always remain here with us," Rust said.
Hodson is known throughout campus as someone who would immediately wave or say hello as she passed by anyone she knew. Hodson also always put in an extreme amount of work into getting to know those around her on a more personal level. Mina Nguyen, senior, and president of the Cancer Awareness Club built a strong relationship with Hodson due to their collaborative efforts to run the club, as well as their conversations about their personal lives. "I would see her interact with new members [of the club]. Then when I came into some of her classes just to set up for the club early, I noticed that she would talk to her seniors about their plans for the weekend, or get to know where they worked," Nguyen said. "She tried to truly build a connection with someone on a deeper basis than just student and teacher."
Across the many different groups in which Hodson was involved, she regarded them all with the utmost attention and compassion. The appreciation and admiration that people around Newbury Park, both at the high school and beyond, have for Hodson will continue far into the future. Her encouragement towards her friends as well as students is surely something to applaud and look up to. "She always just said to always have a smile on your face. Always live life with a positive outlook; always be optimistic. Be kind to others and good things will happen to you." Shubin said. "Hodson will be greatly missed, she was such an amazing person and she made a really, really large impact on this school and in our community in general."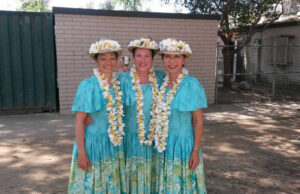 Mahalo Ms. Hodson – Hodson was a member of the Ka Mele Wai o Ke Anuenue hula dance group. "[Hodson] would just come to be here because she said it just gave her a nice peace," Rust said. Eileen Zhang/With Permission
Colleague
Christy Hodson was the light, the strength, and the passion of Newbury Park High School. The epitome of caring, she regarded everyone with a judgment free mindset and kindness, no matter the situation. She always found the good in the bad, and spread the light of good to everyone around her. Throughout her years of teaching, Hodson developed close relationships and forged memories with her coworkers that will be cherished beyond her parting. Hodson's fellow teachers kindly reflect on their time spent together and the lasting impact she made on their lives.
Being able to find the one person who understands you, who loves you for simply being you, and who is just 'your' person is one of the greatest gifts life could give. Deborah Dogancay, Chemistry teacher, received that gift in her friendship with Hodson. "She certainly saw me. She saw all my parts – the unfiltered me, the ugly parts I had hoped to hide… and somehow she only saw and acknowledged the good," Dogancay said. "She lifted me and everyone around her up. And oh that laugh. I can hear her laugh and see her persistent smile in my mind and it brings me a joy that I will keep with me always."
Wherever Hodson went, she created a safe environment where people could let their guard down. Vannessa Denchfield, English teacher, was welcomed by Hodson with open arms, who created a welcoming, friendly atmosphere on campus for her. "She was a friend who was like a mom. She only gave love and nurturing and warmth and just listened to me complain and offered really good advice," Denchfield said. "I always laughed within ten seconds of talking to her. I could be in the worst mood ever and then I run into Christy and I'd be laughing immediately."
No matter what Hodson was going through, she was always there to check up on others and help out in any way she could. Seana Mekari, English teacher, fondly recollects memories of how fierce Hodson was, but also the tenderness and raw emotion that shined within her. "She was fierce and she advocated for all of the teachers under her and on the staff. I respected the fact that she could be present for us at every level. Even when I had an injury and was out for months, she supported me and came and made food for me and took care of me," Mekari said.
"I just love her. And I miss her. And I've missed her for a while. And I hope that when it came down to it, I hope she understood the impact that she had. And I hope that she took that with her."
Although the two did not cross paths, Steve Johnson, History teacher, and Hodson attended NPHS at the same time. Both Johnson and Hodson had a full circle moment as they came back to teach at the school they attended. Since working together, the two bonded over their shared high school experiences, as well as their love for teaching the youth. "Her humanity and genuine concern for other people, whether it was her students or colleagues or family, really kind of separated her from other people," Johnson said. "She showed how important it was to think about what students are going through and the obstacles and things they have to overcome. And to really see that an important part of being a teacher is knowing."
To remember Hodson is to also remember the authenticity of her, her empathy and her passions. For as long as Michelle Saremi, English teacher, knew Hodson, she felt that Hodson's true personality always stayed vibrant and honest. "She was always real. If you asked her how she was doing she would tell you. She wouldn't say 'oh, good', which is the response that you're expecting because you don't actually want to engage in a conversation," Saremi said. "She's the teacher that would come in to say hi and actually sit down and talk for a while. She's the teacher where if a kid was struggling and shared that with her, she would think about it and she would talk about it with her colleagues who could give her some advice. And she internalized and just cared so much."
Hodson's memory and legacy will forever be remembered in the hearts of her colleagues, students and her community. To cherish her and to honor her is to act with kindness, to check up on others and to genuinely care for everyone, as that is what she would want
to see. "Her bright light forever changed us," Dogancay said.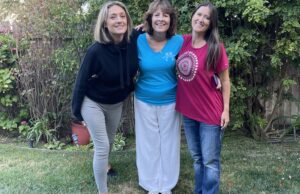 Holoholo – Vanessa Denchfield, Christy Hodson and Deborah Dogancay gathered together. The three were close and enjoyed each other's company. Ms. Dogancay/With Permission
A hui hou – Janet Conner, Christy Hodson, Jennifer Lockwood and Deborah Dogancay hold close as they pose for a picture. The tight-knit group cherished their time together. Ms. Dogancay/With Permission