Newbury Park students begin learning in person
Five days short of the one year anniversary of CVUSD's last in-person day at school during the 2019-2020 school year, those who returned would finally experience something closer to normal. Blended students enjoyed their first day on campus on March 8. Masks were worn, temperatures were taken and students were told to social distance while on campus.
Students on campus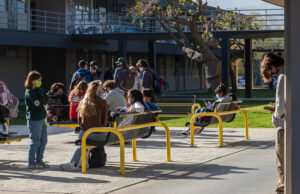 Ramya Ukkan, senior, attends in person school to finish off her high school experience. "Going back to school was an interesting experience. About one-third to one-half of the students in my classes were in-person with me and all the other students were remote," Ukkan said. "Personally, I think it was better than remote because I was able to see my friends in person for the first time in a year and I really missed seeing them every day."
Sage Denham, freshman, feels that she is more efficient with her schoolwork on campus and enjoys being able to work in the classroom. "With in-person school, I feel like we are held more accountable to get work done," Denham said. 
To go back on campus, the school has had to implement many safety precautions, but it has been  up to the students to keep each other safe. "I think that the school has done a good job of following the CDC guidelines for in-person school, and the social distancing rules were enforced. All of my teachers are following the safety guidelines, so I feel safe at school," Ukkan said. "I feel really safe on campus with all of the rules that have been put in place. I think our school is doing the necessary things to keep us all protected." Denham said.
Online learning caused technical and emotional issues for many students, which led a lot of students to choose to return to campus. "A challenge I faced in online school was just getting the motivation to do my work and get up early in the morning," Denham said. 
With the end of the year approaching quickly, blended seniors are glad to spend their last few months of high school on campus. "I went back to school because this is my senior year, my last year of high school. I wanted to get at least some of that experience back before the end of the year. I also am looking forward to spending the last few months before graduation with my friends, because after that we'll all be headed to different places for college," Ukkan said. 
Teachers on campus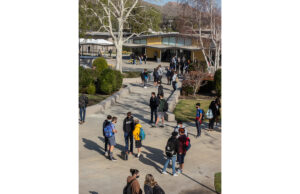 Like most teachers at NPHS, Claudia Ortega, Spanish teacher, has had to learn how to juggle teaching her online students and her in person students at the same time. "It is more of a challenge to feel like we are all 'on the same page' when some students are online and some are in person, but we have only been back in person for a few days so I am hopeful that we can all adapt to this new situation," Ortega said. Similar to Denham and Ukkan, Ortega feels safe teaching at the school. "I feel safer on campus than I feel in other public indoor environments due to the steps taken to improve ventilation in the classroom," Ortega said.
Most teachers were not given the choice to come back on campus or work remotely. Alana Bond, English teacher, teaches on campus as well. "I believe more teachers requested to be online than could be accommodated based on student schedule requests," Bond said. "However, our district and site administrators have been working to accommodate teachers on a case by case basis." In terms of vaccinations, the majority of teachers have had their first dose already. "[Teachers] will be receiving their second dose in 2-3 weeks, myself included," Bond said. "Since I received my first dose of the vaccine before we returned, I do feel safe."
The reopening of campuses has brought a sense of normalcy and excitement for many students and teachers. While keeping in mind the various safety protocols and difficulties that come with juggling remote and blended students, Newbury Park hopes to continue offering in person education through the rest of the school year.