Newbury Park stunt cheer team soars into action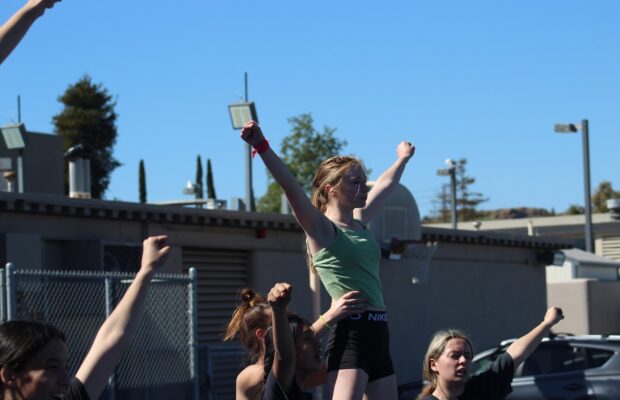 The Newbury Park stunt cheer team eagerly counted down to the start of the spring season, working hard to perform their best at the first regular season competition on March 25 at Agoura High School.
For many on the team, their love for stunt cheer sparked years before beginning high school. Lauren Kulle, sophomore and second year stunter, views stunting as more than just a competitive sport, but also a personal hobby. "I'm personally a big fan of stunting, and it's always been like a hobby of mine. I started going to a class that taught me how to stunt, and once I found out that I was pretty good at it, I decided to try out for cheer," Kulle said.
Along with stunt cheer during the spring, NPHS is also home to a spirit cheer team in the fall. The two both have distinguishing factors and different purposes. "[Stunt Cheer] is very strict and it's more of a competition level, because there are judges who are watching the tape to see how many corrections you have. And the overall point of stunt cheer is to be as perfect as you can. Whereas spirit, there's a lot of flexibility," Kulle said.
Similar to many other sports, Stunt Cheer games consist of four quarters, each with a different routine. Kailey Johns, senior, has experienced the competition atmosphere since freshman year."The first quarter is called partner stunts, the second quarter is pyramids, the third quarter is jumps and tumbling, and the fourth quarter is all of those combined," Johns said. "Both teams are going at the same time, and the judges watch the film back and see what mistakes were made."
Kaleigh Catalano coached the team in 2019, and is returning back to support them with her coaching and high school stunting experience. "Our goal is to just do our very best, and we all want to be the best in the league and go to CIF. I want to stay humble and just take on one game at a time," Catalano said. "We try really hard and most of us are really healthy. I think it's going to be a good competition season."
Through the uniqueness of the sport, the stunt cheerleaders strive to show the strength and effort that it takes to be a strong member of the team. "I would recommend anyone who doesn't even have any interest at all, to at least come to one competition to just watch or see what goes on because I feel like a lot of people underestimate what we do. And it takes a lot of hard work and strength," Kulle said.