NPHS Mock trial places third in the county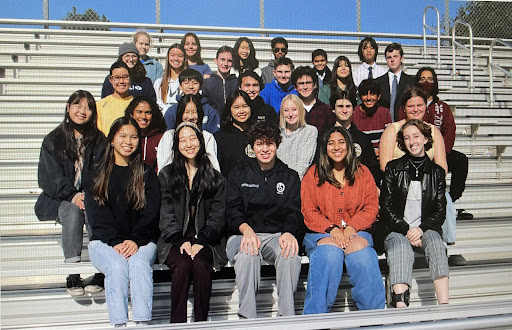 As this year's mock trial season has come to an end, members of the NPHS Gold team are proud to announce their victory in placing third in Ventura County. The winning teams were revealed during a virtual awards ceremony on Feb. 17, which followed the final rounds of competition. Ethan Belkin, senior and lead defense attorney, expresses how proud he is of the Gold team. "The last time Newbury Park did that was actually in 2017, so it's been five years," Belkin said.
Annika Kanugo, senior and defense attorney, has participated in both in-person and online competitions. "The biggest difference between online mock trial and in person, I think, would be the competition, because when we were in person, we would go to the Ventura County Courthouse and actually compete in real courtrooms, like wearing our formal clothing. And it was just really cool to sort of be in that environment," Kanugo said. "But online I was kind of just like, at home, I was wearing pajama pants with a blazer and everything, so it wasn't really the same."
Rachel Goldstein, senior and lead prosecution attorney, felt that mock trial has left a positive impact on her everyday life. "I think that I would not be who I am now without mock trial," Goldstein said. She values the public speaking and argument skills mock trial has taught her and finds herself using these skills in the future. "The kind of skills that you get in terms of your speaking abilities and your argument abilities are pretty unmatched, I would say," Goldstein said.
For the past four years, Goldstein has been a part of Newbury Park's Gold team, she has thoroughly enjoyed being with her peers and being able to participate in this opportunity. "It's like an endorphin. It feels like you just spend hours running or playing something…there's a really strong bond and a really good work ethic across the team as well," Goldstein said.
Belkin reflects on his experience and encourages students to join. "It's an absolutely great club. Everyone in it is, I mean, incredible people," Belkin said. "I mean, there's so much variety