NPHS Mock Trial serves in semis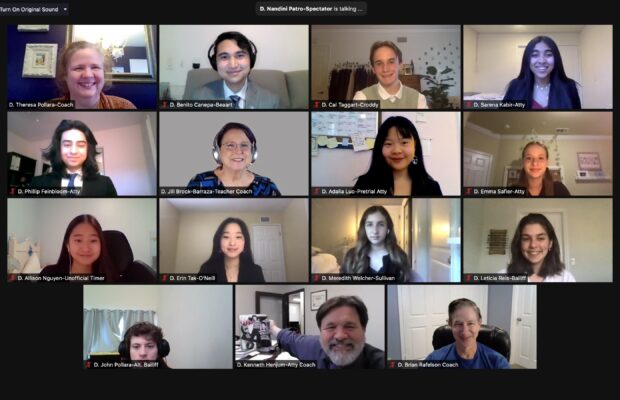 Complete with virtual backgrounds and business attire, both Mock Trial teams succeeded in making it to the top eight. After a week-long competition against 26 schools in Ventura County, the Panther team placed sixth and the Gold team placed fifth on March 1.
Students put in long hours and late nights in preparation for the competition, especially because the online format created a whole new set of challenges. Leticia Reis, sophomore and Panther bailiff, said that the challenges even included mass technology failures. 
"In the third round of competition, there was an issue with the internet and half of the teams, including multiple scoring jurors and even the judge, and the round had to be postponed a day," Reis said.
Rachel Goldstein, junior, and one of the lead attorneys on the Gold prosecution team, felt that competing virtually and having an online season was very different compared to her past years of competing in-person at the courthouse. "There are a lot of logistical aspects of competing, like being able to read non-verbal communication from the judge and witnesses, and communicating with co-counsel during trial," Goldstein said. "A big part of the entire experience of Mock Trial in-person was just being able to bond and spend time with the team, which obviously doesn't translate as well in an online setting." 
Although competing online had its fair share of inconveniences, Mina Nguyen, sophomore and Panther lead attorney, believed that there were some advantages to online versus in-person. 
"It was easier to compete online since we could wear our suits on the top half, and then pajamas for the bottom half. It was so nice that we could be comfortable in suits, especially since wearing suits and high heels after a while gets uncomfortable," Nguyen said. 
In addition to the relaxed clothing requirements, Nguyen believes that the online format did not hinder collaboration. "We could collaborate more with each other since in-person, it was hard to have one's voice heard, but in breakout rooms, everyone had the opportunity to chime in when needed." 
However, if Nguyen had the chance to compete online again, she would have focused more on securing the foundation for objections at the beginning of the year. "Moreover, I would have spent more time on training the team to maintain eye contact with the camera," she said.
Under the circumstances, the team and the adviser Katie O'Neill were proud of how far they got. In O'Neill's announcement, she said that "only eight teams from the entire county make it to this level, and we have two of the spots. There were a lot of students who worked very hard for this."