NPHS wrestling team rolls back onto the mats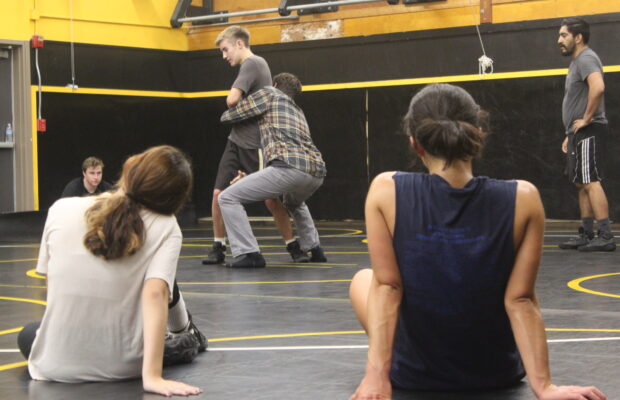 With the new season just beginning, the NPHS wrestling team is starting to get back in shape and prepare for upcoming matches.
Brandon Bauman, senior, is glad to be spending his third and final year on the team with a full in-person season and actual matches. "One of my friends did wrestling, and I did baseball, and I just wanted to try something different. Since my friend was doing wrestling I decided, I guess I'll try it, and I really liked it," Bauman said.
Though the COVID-19 mandates are fewer than last year, there are still some precautions that the players must practice diligently. "We just had to take a COVID test from the beginning of the week… then you'd pretty much take one starting like each new week just to make sure you don't have COVID," Bauman said.
For some, this season is the first opportunity for many to compete in matches and tournaments, including Oliver Caputo, sophomore. "I haven't been to any matches recently but we are starting somewhat soon," Caputo said. "I don't totally know how the tournaments work, but the type of meets we did last year had one school versus another, and JV and varsity both had a match for each weight class," Caputo said. The team meets up for practices Monday through Friday from 5 p.m. to 7 p.m. and their first tournament of the year is on Oct. 18.
Caden Terry, senior, will be spending his fourth year on the team this season. After a whole year of having changes, things are finally getting back to normal for the team. "For a long time we couldn't do wrestling because of COVID, so there was just a lot of running, and then eventually we were able to do things in the weight room just outside.I think we tried wrestling outside too, but that was bad," Terry said. "Normally we would try to do tournaments and do individual fights against a ton of other people your weight. Those were all canceled, so it was only like two teams playing against each other."
Compared to last year, the numbers in matches have definitely increased. "Both freshman and sophomore year, I had like 30 something matches and last year there were like 10…the season was a lot shorter," Terry said.
Overall, this is going to be a new and fun season for the entire team. "My favorite part about wrestling is the team, the coaches and teammates and how they are supportive and helpful especially when we learn new things and there is always a positive atmosphere during practices and meets," Caputo said.