Open Mic Night resonates with local poets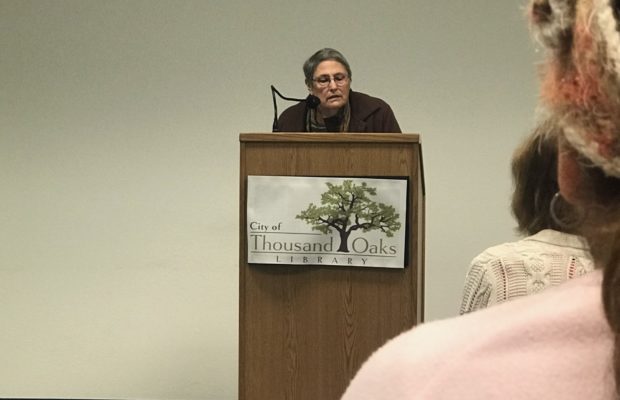 The air was buzzing with laughter and comradery as we sat down and took our seats in the otherwise sparse community room of the Newbury Park Library, three rows back, surrounded by close friends reuniting. As regular attendee Conor Logan stepped up to the podium, the volume of the room rose with the comfortable chuckles and jibes directed at his jacket's decorative Polish crest. 
Open Mic Night is a community event where poets from all over Ventura County gather to read and listen to locally-written poetry. Occurring every second Wednesday at the Newbury Park Library and every fourth Wednesday at the Thousand Oaks Library, each evening starts at 6 p.m. and consists of two rounds of readings from the regular attendees. On the fourth Wednesday, the night includes an extended reading by a well-known local poet.
About 20 people regularly attend, but anybody interested is encouraged to pay a visit, no matter the level of expertise. "If you've never read before, people will listen to you," Ken Jones, event host, said. "People will give you a lot of encouragement to come again."
After moving to Newbury Park in 2017, doctor of Chinese medicine and acupuncture Conor Logan says he immediately felt welcomed by the tight-knit group of friends at Open Mic Night. "The greater community for Ventura County and the poet laureates and the people that help organize these events, they are so connected together, and build such a community in it," Logan said. 
Now an Open Mic Night regular, Logan is appreciative of both his fellow poets and the event itself. "I have good friends now because of this," Logan said. "It's changed my daily routine. I get up and think of writing. . .We pass things back and forth and help each other out."
Not only has this event helped these local writers improve their skills, Open Mic Night has also opened up opportunities for these poets to share to a wider audience. "They turn people that take this as a hobby into published poets," Logan said. 
These writers also strive to bring awareness and activism through their poetry events. In light of some of the recent local tragedies, Ventura County poets came together for specialized readings about "the fires and mudslides in Santa Barbara, the fires in Ventura County." Jones said. "Some of those collections of these get together and publish a book. I think that's something that they want to do more of."
One of the regular readers is Conejo Valley resident Sandra Knapp, who began attending Open Mic Night when they began in May 2017. "As poets, you're always looking for a place to read," Knapp said. "Sometimes it's a coffee shop or something, then the place goes out of business. But to have a regular venue is really great."
Bonnie Goldenberg, another frequent attendee, has used this event to rejuvenate her passion for poetry. "To have a regular reading series, it really encourages you to keep writing poetry," Goldenberg said. "Even if it's just a few people that come, at least it's somebody to listen to you."
Most importantly, Open Mic Night has allowed these writers an opportunity to share their passions within the community. "I just love poetry too. I just want to do something that sort of furthers poetry in the community," Jones said. "It's a community thing for us. It's not just for me."