Football fires it up on the field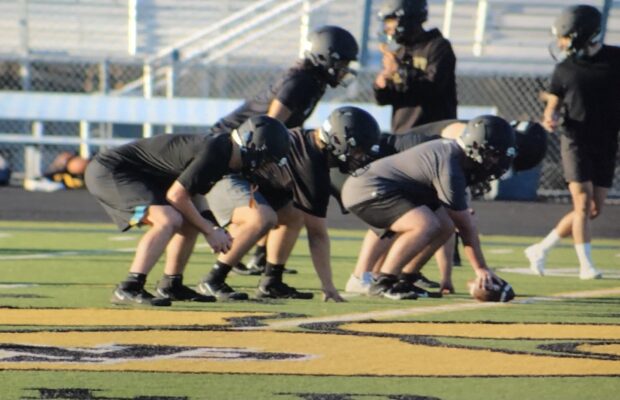 Football fans are excited for the return of the Saturday night lights of NPHS football, which began March 20. After the first games on March 20, junior varsity went against Bishop Garcia Diego High School and varsity went against TOHS, with a crowd and cheerleaders. "It was really fun and nice to be back out and be able to play, and be able to play with at least some fans in the stands," Luke Taggart, junior, said. While both players and cheerleaders are returning to the field, the season will be modified to comply with capacity guidelines. Per each cheerleader and player, four immediate household members can be in the crowd.
With COVID-19 restrictions, the football team has faced many struggles that required the team to problem solve. In order for the team to play, it is a requirement that they be tested every week before games. Despite these extra precautions, Taggart is looking forward to playing for the first time in over a year. "We've been waiting for a whole year, so there's a lot of good emotions going into the season because we can finally play," Taggart said.
Normally, the team kickstarts practices throughout the summer, but due to the pandemic, the team was unable to do so. Jason Klein, the head football coach, has helped the team stay motivated and persevere. "There is some concern there, like are these guys going to be prepared and ready to go, but beyond that …these guys have worked really hard, they know what they're doing so we're excited to get started," Klein said. 
As of right now, five games are scheduled to happen, with three being home games. The games are scheduled on Saturdays, with the junior varsity/freshman teams at 4 pm and varsity team at 7 pm. The football team, as well as the cheer team have been putting in conscientious effort to prepare for this season. Megan McCarthy, the cheer coach, is very fond of all the cheerleaders and feels confident that they will perform at their best, despite all that they have faced and overcame with COVID-19. "We've been waiting all season long so above everything, everyone is really excited but also just ready for this," McCarthy said. 
The season has been hard for both the football players and cheerleaders, but with ten months worth of practice, perseverance and hard work, their coaches feel confident in them. With the pandemic, they have experienced going back and forth between Zoom and pods in person, which definitely presented a challenge.
Only the players, coaches and medical personnel on the field and sidelines, with cheerleaders on the track, and limited crowd members in the stands will be present. "We usually have a packed house here at NP for our home games but it's going to be a lot quieter," Klein said. Dance team is also allowed to perform at halftime, as well as cheer. Travis Endicott, sophomore, is the quarterback for the junior varsity team and feels strongly that the team worked through their problems to make games possible. "I feel the actual game itself is not going to change, I feel more of the fan perspective," Endicott said.