Quartet finishes their senior year on a high note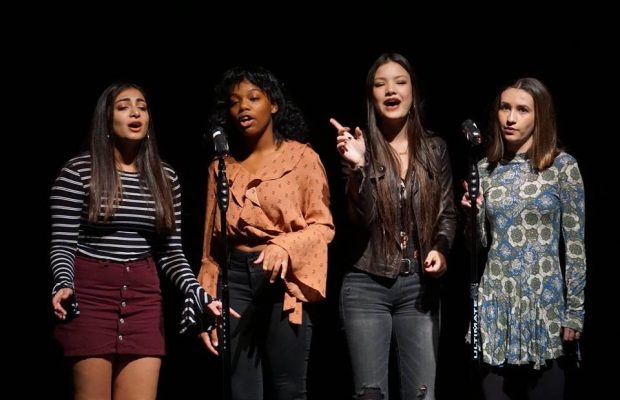 Many children can only dream of growing up and singing with their best friends on stage. Bella Scott, Alisha Patel, Jillian Cotone and Brenda Herron, seniors, are living that dream.
The seniors created the quartet in their senior year of high school. Even though the group is newly formed, they look and sound as if they have been singing together for years.
"We're all in choir together and have been friends since freshman year. We were just like 'hey it would be fun if we did a quartet together,'" Scott said. "We do acapella music: Destiny's child, Little Mix and that kind of stuff."
The four decided to create the group and perform in the solo portions of the choir concerts. However, they have also been paid to perform at private parties and rallies. The group spends much of their time preparing their music, but they can also produce a performance-ready sound in one day.
"We spent a solid eight hours together rehearsing and I gotta say, I've never felt closer to anybody. We were trying to get ready for a paid gig and we were like 'we do not know any of our music' so we had to learn like five songs that day," Patel said. On top of learning the music itself, the quartet also needed to learn hand motions and keys to perform their acapella music.
"Because we are good friends with each other, we are not afraid of being honest with each other. We all have just grown so much as musicians, " Scott said. "We're all very best friends too."
The girls use their friendship to push the limits of their singing abilities.
"We are able to take criticism from each other and not be afraid to suck in front of each other. It brings us closer which helps with being so open with each other," Herron said.
However, their rehearsals are not just singing.
"We crack each other up, so that helps too. Half of our rehearsals are us just laughing," Cotone said. "Maybe that's why we have so many and they last so long."
The quartet call themselves BAJA or JABB, a combination of their initials.
"I thought of BAJA but there are two 'B's' and only one 'A' so you have to do Brenda, Bella, Jillian, and Alisha," Cotone said while laughing. "So it works but it doesn't work at the same time. They call us JABB too. But I like BAJA the best."
Scott said that John Sargent, choir teacher, identifies the group by calling for "Alisha's Quartet."
"It's funny because there are three other people in the group too. Its like Beyonce and Destiny's Child," Scott said.
"Maybe we should just be Alisha and the Girls," Patel said jokingly.
The bonds that the quartet feel for each other would not have been possible without their original introduction in choir in their freshman year.
"Choir is a good program to be a part of if you are interested in, and you are going to make amazing friends," Cotone said.
"They become family too. Choir is more than just a program: its a family. The four of us has been through the good, the bad and the ugly," Scott said.