Reign of Terror brings frights to Thousand Oaks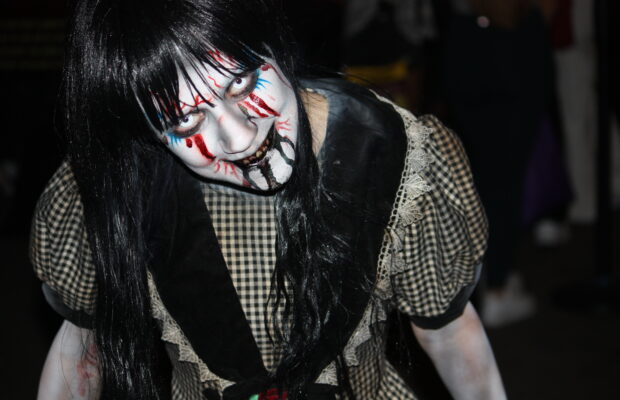 Spooks, haunts and jumpscares are some of the highlights of the Halloween season. In Conejo Valley, a special highlight of October is the annual Reign of Terror haunted house, located in the Janss Marketplace off Moorpark Road. The award winning attraction is equipped with 130 rooms that create a minute tour.. The theme for this year was horror movies including everything from the 1984 thriller "Nightmare on Elm Street" to the creepy, crawly 1990 film "Arachnophobia." This year marked 22 years for the annual event, however due to the COVID-19 pandemic, the festivities were not able to take place in 2020.
Walking into the waiting area, guests are met with scares from various horror actors that keep people in line entertained as they wait to go into the building. Complete with fog machines, giant skeletons that tower over guests and the signature Reign of Terror hearse, the waiting area is a great photo opportunity to capture memories since photography is not allowed in the actual haunted house. As you go into the building, you can take a picture in front of a green screen, which you can purchase online after you leave.
You then wait in one more line inside of the building, which is complete with amazing decorations; however, there are no jumpscares, which I found to help ease you into the experience. At the front of the line, you are taken into a small hallway where a video plays of the rules of the haunted house and safety procedures. The experience in that room was probably the most nerve wracking, because all that can be heard is banging and the screams of other guests. The door on the other side of the corridor opens and you are rushed in by the first set of actors in full costume. Going through the maze of rooms, you see Easter eggs that point to the theme of this year's Reign of Terror.
All of the sets are top quality with amazing performances from the actors. There are plenty of well concealed hiding spots for jump scares that will make you wonder where exactly the actors came from. Some are hidden in plain sight among the realistic props, standing so still that when they jump out at you, you never see them coming.
This year's Reign of Terror is a great experience to have with friends and a great way to celebrate the Halloween season. I was thoroughly terrified, but if you are not one to get scared easily, bring a friend who is. Our photographer on staff said they were thoroughly entertained by my fear (even more so than the actual haunted house), so there really is something for everyone at Reign of Terror.