Rioters claim voter fraud at the Capitol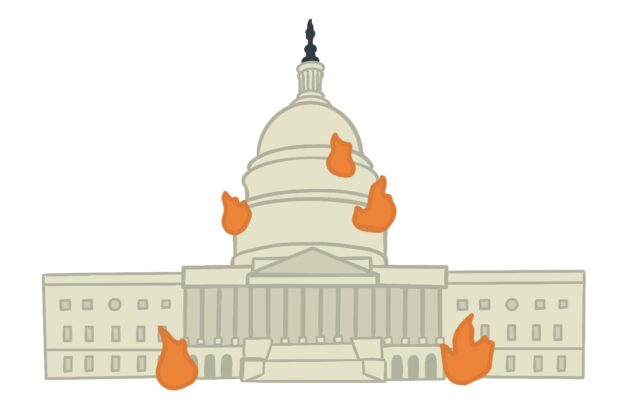 On Jan. 6, thousands of Trump supporters, many maskless, gathered around Capitol Hill for what began as a voter fraud protest but escalated into violence. Around 1:30 p.m., the Capitol was evacuated due to the rioters approaching the building and forcing themselves past security. Backup police force didn't arrive until much later in the attack.
About an hour later, several windows were broken and the rioters began entering the building at around 2:40 p.m., causing extensive destruction of government property. Not all rioters made it into the building; a majority remained outside, cheering on those who did make it in. Five fatalities have been reported as of Jan. 22, including one Capitol police officer who died from injuries after being hit with a fire extinguisher. Another woman was left dead in the front of the Capitol after being shot by Capitol police. 
Pictures taken by the intruders have revealed many of those in attendance and the damage done. A man, who has since been arrested, stole Speaker of the House Nancy Pelosi's podium. Another man, who has also since been arrested, had a picture taken of him sitting in Nancy Pelosi's office with his feet up on her desk. An Air Force veteran was even seen walking around the proximity of the building with zip ties in hand; many believe his intention was to take hostages, unaware that all staff in the building had since been evacuated. Many pictures have also been taken of rioters in various costumes. 
Later that evening, former Pres. Donald Trump released a video asking rioters to go home but it still took several hours to declare the building secure enough to continue on with the formalization of Pres. Joe Biden's election victory. A trial was held after this insurrection and resulted in the impeachment of former Pres. Donald Trump. So far, over 100 arrests have been made and an FBI manhunt has begun in hopes to arrest those who entered the building illegally. Money rewards have been promised to anyone who can offer information or locations of the rioters who now have several criminal offenses to their names including seditious conspiracy, rioting and federal trespassing.