Senior athletes move past COVID-19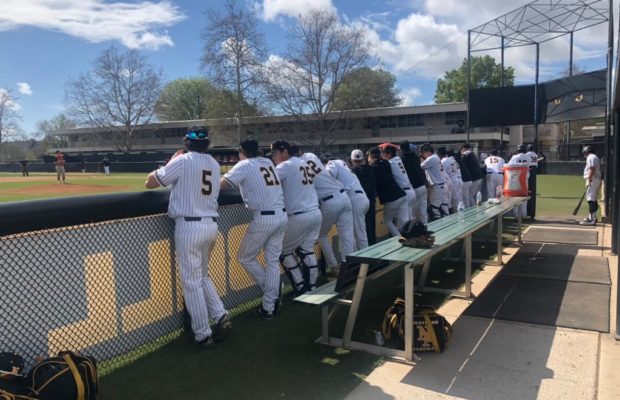 Imagine a world with no movement. A world where time is stopped and there is no physical social interaction. The lack of motion and socializing takes away one aspect of society that brings people together- Athletics. No more crowds gathering on bleachers, or a game for them to see anyway. This is the world we live in now, this is COVID-19.
Newbury Park High School, along with most other schools, was forced to cancel all spring sports for the rest of the season, possibly longer. Because of this, both student and professional athletes around the world are dealing with the cancellation of their respective sports.
Soccer
Rashoff played soccer for the Real SoCal academy team throughout high school. After coming close to winning the National Championship last year, the team was ready to destroy the competition this year. 
"We were all really upset, because it was our last season together and we were playing really well as a team. We were looking forward to going to North Carolina in April, and had really high hopes of winning the tournament there," Shaelyn Rashoff, senior, said. 
After holding the number one spot in the nation for some time this season, "it was crushing news to hear that we couldn't play anymore," Rashoff said.
 Mountain Biking
For Ido Dukler, senior and varsity captain of the mountain biking team, it was hard to accept what was happening when the "Stay-at-home" order was put in place. 
"I was personally shocked because at that point I didn't really grasp the severity of the situation, but nevertheless I stayed hopeful for a possible return," Dukler said. 
Just as his season was starting to pick up, with races set for almost every coming weekend, it was announced that he wouldn't be able to compete in his last season. Dukler refused to let that stop him, however, and kept himself in shape through quarantine, even working through a few injuries.
Now, he looks to the future: "I have always wanted to try a triathlon, so when things clear up, I might try that out and see if it's right for me," Dukler said. 
Tennis
The tennis team was chasing the glory from their championship run two years ago when COVID-19 shut them down. Nathan Juan, senior and varsity captain, had a frustrating start to his season, playing just one "disappointing" game before his season was canceled. 
"It was frustrating, to say the least, but there's not much we can do now but stick together as a team and encourage each other off the court just like we would on the court," Juan said. "As for the future, I hope to definitely continue playing with balls in college, just for fun or even maybe in a club team but I'm not sure yet."
Juan has been finding time to practice since tennis courts opened back up again, making sure that when he can compete again, he will be ready. 
Track
Kyle Wonders, senior, has been dedicated to track for the past four years. But his big plans to break his personal records this year and to qualify for a big invitational meet with his team never came true. 
"I spent a couple of weeks being really frustrated at the loss, but after thinking about it and really putting it into perspective I realized it's not just me who lost my season, it's everyone," Wonders said. 
Wonders has kept his head up through hard times, still putting in time to work out every day. Even after spraining his ACL, he "got creative in [his] training" and kept grinding. 
"The most important thing to realize is that we are all in this together," Wonders said. 
Girls' Lacrosse
The girls' lacrosse team is making the best of the situation by communicating through technology and keeping in shape at home. "Our girls zoom, we are in a group chat and we send each other workouts," Michelle Yarger, coach, said.
Although many high school athletes are scared that they will not have the opportunity to be scouted for colleges, Yarger is also confident that the cancellation will not have consequences on college choices for the girls. "The IWLCA and College Coaches have been great in reassuring the players and coaches that the girls will be back on the field again and they will have a chance to play," Yarger said. 
The seniors being unable to enjoy their last year is one aspect that girls' lacrosse particularly struggles with. "Not being able to honor our Seniors in person [is hard]." Yarger said. "[They] have worked so hard to make NP lacrosse what it is today."
But,  the team has chosen to learn from this difficult season. "We can just remember that we may have to always play a game as if it's our last game, and I think that is a very important message," Yarger said.
Swim Team
The swim team was  hit especially hard since many athletes did not have access to a pool. Many swimmers could not practice their sport and had to resort to other on-land exercises. 
Ava Holzcamp, sophomore on varsity, practiced with a club to prepare for her spring season all year, but then the season was discontinued. "We were not able to reach our full potential both individually, and as a team," Holzcamp said.
But the team hopes to make a strong comeback from the season's short end with the help of head coach, Emma Lythgoe. "It has been important that the team stays unified," Hozlcamp said. "Coach Emma has been integrating scheduled zoom meetings and weekly exercises which have helped us stay in touch with one another and stay active, during this extremely isolated time." 
Despite the difficulties this time has brought, Hozlcamp made the situation a learning experience for herself and the team. "We can only use this time to reflect on ourselves, and to keep working on our individual growth with the next season in mind to come back even stronger," Hozlcamp said. 
Boys baseball unifies at Ventura College
Senior year of high school is so important for athletes because it is their last chance to play with the teammates that they grew up with. Five Seniors on the boys baseball team have decided to continue to play together at Ventura Community College.
The baseball seniors were hoping to win one last Marmonte League championship before their paths diverged. Jake Read, senior, remembers when they won the championship when he was a sophomore; "My sophomore year I was led by some great players who taught me how to play the game right," Read said. 
Now that the seniors don't have a season to get scouted, many of their college dreams have been altered. "I was committed to play baseball at the University of Nevada Reno, but decommitted before the season started." Max Flame, a senior on the baseball team said. "My plan now that our season is cancelled is to go to Ventura Community College and play a year with them, hoping that I do well and get recruited to a University."
However, the time the coronavirus has also been used positively to help students reconsider what is right for them. "Now with everything cancelled and shut down I've had time to take a step back and figure out what's best for me and my interests, so I decided to enroll at Ventura College for the fall and will be playing baseball there," Gavin Williams, senior, said.
"Anyone that's played a varsity sport in high school knows the feeling of playing against your cross town rival in front of full stands with all your friends and family watching you. It's a feeling I love and wish I could have back." Williams said. "Every senior on the baseball team knows we had something special. It's a group of kids that have grown up together playing ball for almost half our lives."
However, senior athletes are pulling through these hard times and moving on from this season with wonderful memories and high hopes for the future. "I can only look forward and prepare for what's ahead," Williams said.