Solo artists win big at talent show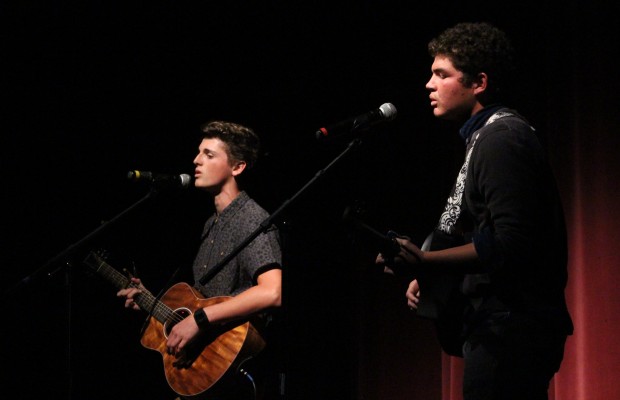 Five minutes, ten minutes, fifteen minutes past 6 o'clock and people were still filing into Newbury Park's Performing Arts Center. At twenty minutes past the scheduled start time, the lights dimmed, quieting the crowd of excited students and anxious parents. ASG's NPHS Talent Show was under way.
The spotlight first shown on Masters of Ceremony Cami Fraser and David Barbour, who filled the night with several attempts at humorous banter, and a few successes.
The first act introduced was Strings, with Rayna Kanapuram, Arielle Buchanan, Jeff Demorest, Claire Nelson, and Tori Pacheco. The group performed a rendition of Led Zeppelin's iconic "Stairway to Heaven" and got the event off to a rockin' start.
Next was Evelyn Rose, who starred in the N.P musical "High Noonish". Sticking to her theatrical roots and using her strong stage voice, Rose sung "Defying Gravity" from the hit broadway musical, "Wicked".
Stand up comedian JC Yela brought in some laughs with his commentary on student loans, fast food, his unfortunate love life, and even the lost Malaysian airplane.
Next was senior Sarah Hinds, who sang an original song accompanied by her ukulele. Though by far one of the least flashier performances, Hinds captivated the judges with her melodic sound and raw emotion. "It was more of a story about myself … and what I've gone through and been doing for the past couple months now. Like this is who I am … take it or leave it," Hinds said.
Singer Sam Herbert got the audience clapping along to his performance of Justin Beiber's chart topper song, "Love Yourself". Though Herbert began his act with a false start, it was only a minor hiccup, and was soon forgotten.
The grand piano was wheeled out for freshman Grace Chen, who's been playing piano since the first grade. She commanded the stage with Chopin's Ballad #1. "Well I don't know if this is weird but I just like being on stage because the lights are on you and you can't really see the audience because it's so bright, and I really like that feeling of it's all you and everyone is watching you," Chen said.
Jeff Demorest came back on stage with his band, Jeff Boyar-D & the Crusty Crew. The band, also featuring Kyle Hart, Sean Levine and Angelo Velasquez, brought an immense amount of energy to the stage with their rendition of "Iris" originally performed by the Goo Goo Dolls.
After a brief intermission, Sierra Watson kicked off the show by singing an Adele medley which included songs such as "Skyfall", "Rumor has it" and "Hello". Watson managed to seamlessly intertwine the songs, garnering points from the judges for her ingenuity and artistry.  
The band Static, featuring Mikey Netka, Trevor Smith, Angel Torres and Zane Vandevort, came out strong with their own rendition of "Bad Fish".
Next, Luc Germann and Jack Walsh each had their guitars in hand as they sang a soulful duet of several songs including "Thinking Out Loud" and "Let her Go".
The grand piano was wheeled back on stage for Dagan Sciamanna's performance in which he accompanied his piano talents with rap. Unlike Chen, Sciamanna's history with the piano is not nearly as extensive, as he has only been playing for a few months. Despite this, he succeeded in making the piano highlight his vocals.  
Matt Weymer and James Pratt, who are both ranked within the top 20 yoyo artists in southern California, shocked the crowd with their explosive yoyo performance, in which they mixed hip hop music and moves to the complex maneuvering of their yoyo's.
Step siblings Remy Campbell and Gavin Armstrong did a heartfelt rendition of Hozier's "Cherry Wine" in which Campbell's voice paired wonderfully with Armstrong's guitar playing.  
Last to perform was Ashwin Vasudevan who ended the show with a top-notch hip hop dance routine.
In the end, the judges for the evening, Mr. Eby, Mr. Lion, Ms. Keeler and Ms. Koenig, would decide as follows: Herbert in third place, Watson in second, and Hinds first, letting her take home the 100 dollar winner's check. Germann and Walsh would win the student choice vote.  
"We were looking for something unique first, (and) all of them were pretty unique acts. And then we were looking at how did the crowd react to them," Ms. Keeler, science teacher, said. Almost every name on the programme came up in the judges' discussion for second and third place.
"We were pretty unanimous about Sarah winning…as far as second and third it really could have been anyone in the show, I mean the acts were so good this year," Keeler said. "They were all really unique and pretty incredible."
The awestruck and humbled Hinds seemed overwhelmed at her unexpected win. "I'm just like … an awkward, tall, 5' 11'' girl that just walks in and is gonna play the uke. It was intimidating, but definitely a very good experience," Hinds said.
Image: Audience favorites Luc Germann,  junior, and Jack Walsh, junior, sing along to the strums of their guitars at the talent show on Friday night. Kayla Borkovec/Pawprint