Sparkles motivates students to stay positive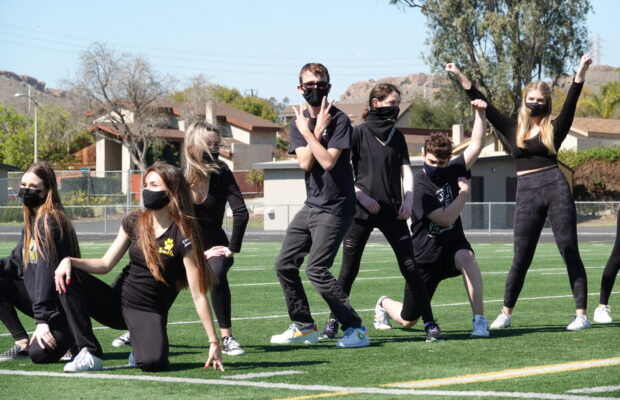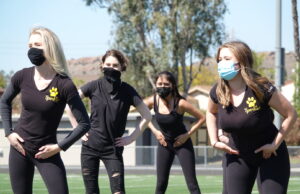 The fans clapping, the players giving it their all, the enthusiasm and spirit everyone can feel from the cheerleaders. Everyone loves and misses football games, especially the hard-working Sparkles cheerleaders. Sparkles is a team that gives special ed students an opportunity to be cheerleaders. The team started in 2009 and still stands strong through COVID-19 obstacles.
Many cheerleaders have participated as either helpers or senior coaches and have truly felt impacted by the Sparkles program. Sam Scheffler, senior, is the current president of the program and has been participating for three years, "We're trying to spread the word to more Sparkles to try to get us to build as a program together. But, we have an Instagram and we're really focused on putting us out there and getting as many people as possible to join our club," Scheffler said. They can be found on Instagram @nphssparklescheer
The two Sparkles vice presidents are Emily Neiyer and Jenny Manzhos, seniors. Alongside Scheffler and the coaches, Neiyer and Manzhos come up with routines for the Sparkes to perform at sports games and rallies. Some of the routines they have performed this year are included in the virtual homecoming video and in the upcoming virtual pep rally that will be aired on March 12. 
Averie Lomas, freshman, is one of the Sparkles' helpers. Although Lomas is new to the  Sparkles team, she already feels so much joy being around students she normally would not get to interact with. "People with disabilities or special needs often get disincluded or aren't involved in things because of their disability," Lomas said. 
While many sports games have been cancelled, the Sparkles will still be able to experience some aspects of their regular year as they prepare their performance for the virtual pep rally. "We had been told two weeks in advance that we were doing a virtual prep rally and that we were going to a fun dance that will be filmed and put out for the whole school," Lomas said. Although the Sparkles have been able to perform multiple times in past years, this was the first time the group was able to perform this season.
Football season is normally an exciting time for the Sparkles team, the homecoming game in particular. "We created a dance and we were actually able to perform that dance in front of the entire school," Scheffler said. This experience was life changing for the Sparkles cheerleaders. "It's just an amazing feeling seeing how happy they are to dance with us and do cheers," Lomas said. 
The Sparkles team has made a huge impact on all of their helpers and coaches, along with other students and community members. Throughout the years, the Sparkles program has grown and touched the hearts of many. Hailey Knopp, sophomore, has been a part of Sparkles for a year and feels impacted and inspired by all the members on the team. "They are seriously the sweetest kids I've ever met and so full of joy," Knopp said.
The Sparkles program has had a major impact on the student helpers on the spirit cheer team as well. They love being part of the community and having opportunities to perform the dances that they work so hard on. Alex Gutfleisch, senior, has been a Sparkles cheerleader for three years now and believes the program has helped him make new friends. "Sparkles is important to me because I get to meet all the new people that I normally wouldn't hangout with and I get to go cheer on a team with all of my friends," Gutfleisch said.
A lot of exciting events happen in the Sparkles club for the cheerleaders to look forward to. Sparkles member Austin Moncourtois, junior, says the best memory of being a cheerleader has been getting the chance to perform in rallies. "My favorite part about being in sparkles is hanging out with new people and cheering at football games," Moncourtois said. Sydney Thurlkill, sophomore, felt similarly, "My favorite thing in Sparkles is going to rallies," Thurlkill said. They all agreed that being in Sparkles made them feel happy. 
Just like many other athletics, Sparkles was forced to stop meeting last year when COVID-19 hit. They began meeting via Zoom and unfortunately lost connection with a few Sparkles. But recently, the team has been able to meet and practice in-person, "Our advisor, Debbie, was able to contact the office and we fortunately get to practice in person," Scheffler said. This has been beneficial to the Sparkles as well as the coaches, making it easier to choreograph dances and communicate with the students. "We still do everything we normally just, we can't physically touch but we definitely still have a lot of fun," Knopp said.
Though this year looks much different for the Sparkles, their resilience and positive attitudes can teach all students a valuable lesson about adapting to adversity while keeping a smile on their face. "They have taught me to be so much happier about everything in life and they just bring so much joy to everything. It's just such an amazing opportunity to be a part of this amazing club," Scheffler said.