Spend some time at Art Trek's Five Dollar Friday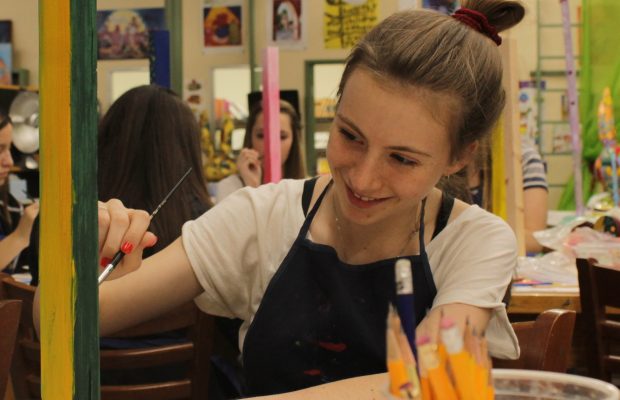 Art Trek is a cute and quirky arts program found on Rancho Conejo Blvd., Newbury Park. Trinkets line its entryway, paintings hang about on every possible surface and oddly enough, several giant patterned bunnies sit about.
On the third Friday of every month, Art Trek opens at 7 p.m. for Five Dollar Friday. After seeing their flyers around school, I decided to finally see what it was all about.
I worried that the friends I forced to come with me and I would be the only ones there. But upon arriving, I was surprised to see excited faces greet us as they took our admission fee. In the spirit of forging some kind of quasi-community, they gave us nametags and introduced themselves. After being directed to where different art supplies stations were, my friends and I trekked (ha ha) farther into Art Trek.
There were several tables set up with wooden "peace poles" and panels to be painted and decorated. If you are anything like me, you might be wondering what the heck a peace pole is. Luckily for us both, I learned what it is: a peace pole is a wooden staff that generally displays a message having to do with peace or a prayer. However, many of the Art Trekkers were taking their own creative liberty with the peace poles and painted them without regard to a specific message.
In the center of the room, there was a Valentine's Day themed cookie decorating station with frosting and sprinkles.
I was glad that there were several options to choose from so that I was not locked down on a project that I would rather not be doing. However, there is only so much options can do if you are like one of my painfully indecisive friends who was not able to choose a project and stick with it.
I decided to paint a peace pole. I was relieved that Art Trek provided a variety of colors, since I have some trouble mixing paints consistently (eyeing proportions should not be that hard, yet I can never get the color the way I want it). They also had paintbrushes in various sizes to accommodate whatever level of precision you need for your project.  
Music played in the background throughout the night, which was soothing to paint along to. The owner of Art Trek also kept made rounds through tables, snapping photos of people working on their soon-to-be masterpieces.
Although I do not think I will be making it a regular habit to attend Five Dollar Fridays, I really enjoyed going and will probably do so again. If you are a person that loves painting, sculpting or even just decorating cookies, Art Trek is the place for you. The people are nice, and create an overall inviting ambiance that makes you feel welcome to stay. For the cheap price of admission, you definitely get more than what you paid for. Art Trek is definitely the place to go if you need to work on an art project or just want to have a fun time making something.