Spring sports : the competitions to begin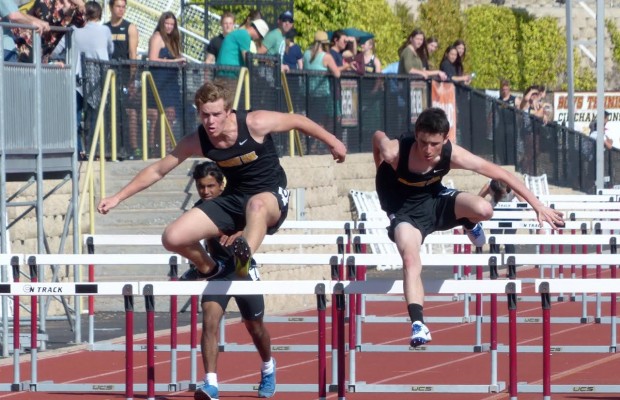 Swim
Although Westlake High School has historically dominated the Marmonte League swim teams, this year's NPHS team is looking forward to upsetting their throne after several close races last year.
"The goal this year is to rile everyone up, get them all excited for swim team, and hopefully maybe beat Westlake," Sandy Nguyen, senior girls' varsity swimmer, said.
The team also wants to continue sending several swimmers to the end-of-season CIF races, as they have been doing for the last several years.
"We have a few goals," Leo Vodantis, senior boys' varsity swimmer, said. "First is win league, and second is to have more swimmers attend CIF, which is the state meet, and then keep progressing and advancing through CIF until we are the best we can be."
While several varsity swimmers graduated last season, the team hopes to stay strong through new seniors and club swimmers.
"We lost a couple key seniors last year but they're almost replaced in the fact that we have a lot of seniors this year, a lot of kids with experience, and some of the underclassmen are stepping up," Vodantis said. "If we're not as good as last year, then we're even better."
Personally, Nguyen is looking to beat her old times in her freestyle and breaststroke races this year, while Vodantis's goal is to set not only personal records, but also to help set school records as a butterfly swimmer.
"I'm the butterfly leg of (the 200 IM relay). We're super close to setting the school record which has been up there since 1981," he said. "As for me, I'm looking to get top three at league this year for 100 fly."
Boys' Tennis
With their last Marmonte League championship won over 40 years ago in 1971, the boys' tennis team is seeking to reverse the "71" digits to "17" and come out first in league by the end of the 2017 season.
"Our team goal is to win league and at least defeat Westlake," Andy Reddy, senior tennis team captain and varsity player, said. "We defeated Westlake last year, so we've gotta keep up the tradition now."
The team has already been training for the season since the start of winter, and has played several pre-season matches in February.
"We attended the Santa Barbara Invitational Doubles Tournament and we all got some hardware, or trophies, so I think we're looking good this year," Reddy said of the Feb. 24-25 preseason tournament. Reddy and doubles partner Wally Thayne, sophomore, took home a first place win, while three other doubles teams also made finals.
As a personal goal, Reddy hopes to match his undefeated record of 40-0 from the 2016 season.
"I'd like to try to make it far at (the Ojai tournament) and in CIF as a team and individually," he said.
Girls' Lacrosse
The girls' lacrosse program has been steadily improving their presence in the Marmonte League since its inception several years ago.
"This year (our goal) would probably be to grow the program and to make it more developed," Sydney Bumbarger, senior varsity captain, said, "because we have a lot of potential this year and new talent with a lot of new girls who came and tried out."
Even though the team is "pretty underclassmen-heavy" and has fewer experienced players compared to last year's team, the arrival of new coach Karena Lewandowski will help the young team train for the season.
"We got a new coach this year who has a lot of new ideas that she wants to implement into the team," Bumbarger said. "I know she definitely wants to implement a new type of defense and just get us winning more games."
This year, Bumbarger hopes to "make first team all league again because I've made it two years in a row now," as well as to be the team's top scorer.
"I'm excited to be captain!" she said.
Boys' Lacrosse
With more than 15 seniors on the team, the boys' varsity lacrosse team is unusually heavy on upperclassmen. However, with close age and familiarity also comes teamwork.
"We are more united this year and we have more leadership this year," Anderson Hill, senior varsity defensive player, said. "Whereas last year it was more of an individual thing, this year we're more of a group thing."
Just like most other sports teams, the lacrosse team hopes to take first place in the Marmonte League and has a good chance to do so based on their 11-7 record from the 2016 season. According to a preseason vote by area coaches by MaxLax L.A., the team was also ranked seventh out of the top 20 boys' teams in the L.A./Ventura County regions.
Hill looks forward to "the camaraderie and playing with friends and teammates again. It's always great when players are able to bond in order to achieve a common goal, which is to just play the best that we can."
Boys' and Girls' Track and Field
With a strong set of distance runners currently in school, the NPHS track team hopes to dominate the long-distance events this season.
"After a strong cross country season our distance team is actually gonna be pretty strong," Ethan Duffy, senior varsity runner, said.
"Our coach wants us to perform well in the mile," Olivia Diliberti, senior varsity runner, said. "He's hoping to have three top runners boys and girls in the mile, and we're hoping to go to CIF."
However, the team also hopes to do well with their short-distance events.
"I think the sprinters are much more focused and dedicated so I think this year will definitely be a lot better than last year," Duffy said.
As one of the best distance runners in school history, Duffy aims to "break the school record for the two mile or get under 9:10 for the two miles" as well as the distance medley relay school record. Diliberti's goal is to improve her 800 time by eight seconds, which she says "is going to be really hard, but think I can do it."
Boys' Volleyball
While the boys' volleyball team has regularly lost five to six seniors each year, they'll learn how to work with only two seniors on the team this year.
"It's good because the grade below us, all the juniors, aren't losing a lot of people," Jordan Moses, senior opposite player, said. "The two seniors, me and Nelson Kappas, we're both starters so we don't have the extra seniors that are on the team just because they're seniors, so we don't have extra players we don't need."
While their official preseason practices began near the end of January, the team has been jump training in the weight room all year to build muscle. Their hope is that the training will pay off in beating rival Westlake High School.
"Our huge goal this year is to win league, and mainly that's all about beating Westlake. Everyone else we know we can beat, but Westlake is going to be a challenge as always," Moses said. "We beat them twice and win league, that's my goal for senior year. This team has potential to do that."
Moses also has a personal mission: to become the league MVP, which he says he will "have to work my hardest" in order to achieve.
Boys' Baseball
The baseball team started their season with a bang, winning 4-1 against ___ in their first game on Saturday, Feb. 25.
"Our starting pitcher went six innings and it was a good game," Brayden Ashmore, senior pitcher and outfielder, said.
This season, the team looks forward to playing in the Eastern Tournament and facing off against rivals Thousand Oaks and Westlake.
"We're hoping to make it to playoffs, just make a run as far as we can," Ashmore said. "The way things are looking right now, I think we have a good chance."
As a senior player on the team, Ashmore hopes to hit over 300 and keep his earned run average under 2. He also wishes success for the team and the boys with which he's been with for four years.
"It's a lot different starting out as a freshman and seeing how far everyone has gone, seeing how everyone has progressed. It's really awesome to see how all the guys have come together," he said. "I believe as much as we have talent, we have team chemistry so all the guys get along pretty well and we always work together."
Girls' Softball
Coming Soon