Strings classes dazzle at first concert of the year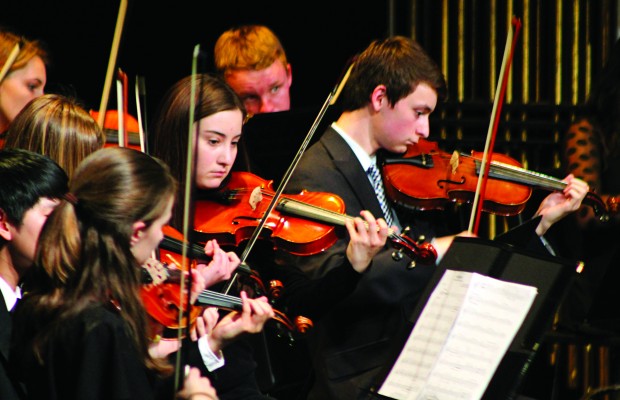 The Chamber ensemble performed for the first time alongside the concert strings and strings classes at the Winter Concert in the Performing Arts Center on Dec.4.
The strings orchestra played five pieces and the smaller, advanced chamber and concert strings groups played pieces by Ravel and Vivaldi separately. The concert also featured the Sycamore Canyon Strings students, the Sequoia Strings students, and other groups from the NPHS Orchestra program, who played classical pieces by Bartok and Pachelbel and debuted senior Taylor Hertz's original piece, Reverie.
"I hope that (the audience members) enjoy the show, enjoy seeing their loved ones performing, and walk away with a good experience," said sophomore Danny Murphy, second chair cellist.
Since Ms. Huang took over the Orchestra program last year, it has expanded from one class to a program with different levels, including Concert Strings, Chamber and Strings. "[We featured] our chamber ensemble for the first time," said Tina Huang, orchestra teacher at NPHS and Sequoia Middle School, before the concert. "I think it legitimizes what we do."
After the concert, Huang was optimistic about Chamber's debut. "Now [chamber is] excited because they've finally performed on a real stage," she said. "I really think that this is the beginning of something on a whole new level. I'm proud of them."
"Chamber is a smaller group of students … we spend more time together and we work a lot more on our sound, our tone, and intonation. We play more difficult pieces," said junior Heidi Busse, second violinist in Chamber and strings orchestra.
Huang has planned two more recitals, one in March with the Chinese Folk Ensemble and the Spring concert in May. She also hopes to raise enough money to take students to play at Seaworld in San Diego in March, in addition to competing at other festivals in April.
"I know that the students have worked really hard and the progress that I've seen from last year to this year is tremendous … we just have a really congenial group who loves orchestra and I think the audience sees that passion when we're performing," Huang said.