Stud Pageant brings big win for Key Club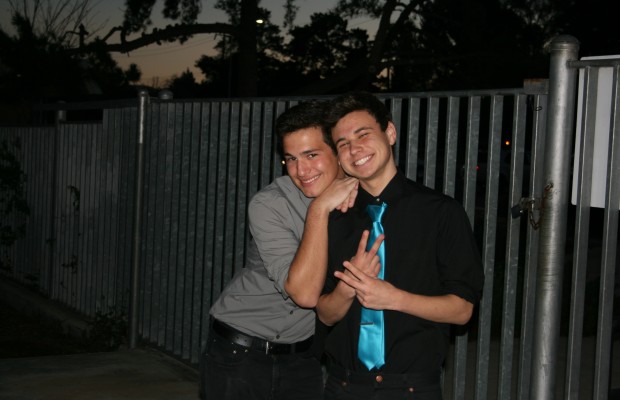 From behind the curtains, fifteen NPHS boys anxiously awaited their entrance onto the stage, where they would showcase their talents and studliness in competition for the title of best stud at Newbury Park High School. Though junior Anthony Cancasci would eventually claim that honor, the biggest winner in last Friday's Stud Pageant may have been Key Club,  the student run organization which annually hosts the event.
From ticket sales and the bake sale which coincided with the event, Key Club raised $807.80. " (It) is the largest amount that we've ever made, so we're really proud of that. Last year we made somewhere around five hundred so we've really increased it this year," said Key Club co-president, Dani Moors. "We're really excited."
During the Stud Pageant, the "studs" were judged in three categories: spirit wear, talent, and formal wear, which was coupled with interviews. During the voting portion of the contest, audience members were treated to a performance by Newbury Park High School's rock band, "Mikey and the Boys".
The winner of the contest, Anthony Cancasci, won the audience over during the talent portion where he performed a poem he wrote for his ex girlfriend. Cancasci had been envisioning his part in the competition for years. "I looked in the mirror and thought, 'Anthony, you a stud. They should have a pageant for this,'" Cancasci said. Before the competition, he revealed he had an important opponent to face down. "(My biggest competitor is) probably myself, my own inner demons. I gotta fight those inner demons, prevail and win the stud pageant, for me and for everyone back home," he said.
However, Cancasci's title will not be held for long, as he is now moving to Florida with his family. "We're really happy that he won and it was a good way to leave," said Moors.
Other acts done in the talent portion were Zach and Chris Clarke's performance of "Who's on First Base" by Abbott and Costello, and Kevin Norgaard's mixtape. "He included little snippets from our physics class, which was hilarious," Moors said. "There's a lot of subtle allusions adults might not get, but I think the students got."
Jordan Jomsky, a junior stud, was inspired to take place in the competition after visiting Key Club meetings. "They've got a good thing going on. They do a lot for charity..and the (Stud Pageant) sounded cool," Jomsky said.
Julianna Heller, co-president of Key Club, was excited for the night and how the proceeds would help their community service organization. "All of the money from the show… goes towards the Eliminate Project, which helps to eliminate a disease from the world," Heller said. Over the past five years, the Eliminate project has raised over 7 million dollars. The specific disease that Key Club is focusing their efforts on is maternal and neonatal tetanus, which mostly affects babies in third world countries. "It is a horrible disease," Heller said. "But with small funds like a dollar, you can save a baby."
This year's Stud Pageant raised record funds, with an increase in over 300 dollars over last year's event.
"It's really because of the studs, they got all their friends to come and it's also our largest membership year," Moors said. Key Club has been working on expanding it's reach this year by starting two Builders' Clubs, which are the equivalent of middle school Key Clubs, and hopes to start a K Kids for elementary aged children at Sycamore.
But for now, Key Club will enjoy their success from this year's Stud Pageant. "Every year, it's very chaotic the last week," Moors said. "It is crazy, but it always is, but we pulled it together."