Students spend a day with cancer patients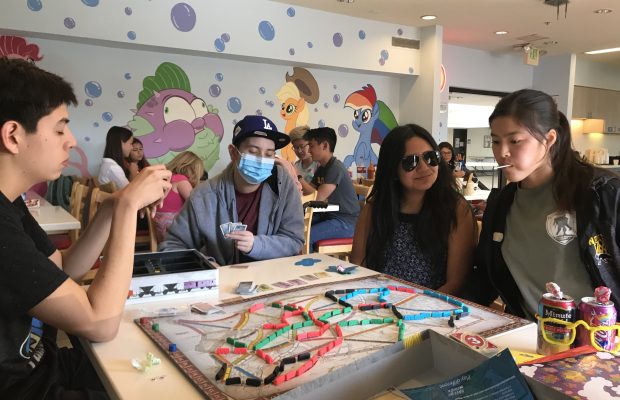 June, 2 years old, thoroughly enjoyed popping bubbles; Deandra, a year older, preferred creating art with chalk; and Alyssa, 9 years old, was the champion of Candy Land. Each child played like any other, but each child also suffered from a serious disease and was being hosted at the Ronald McDonald House in Los Angeles.
On Feb. 17, the American Cancer Society (ACS) club visited the Ronald McDonald House and spent time connecting with the children, including June, Deandra and Alyssa.
Kaira Samuel, junior and co-vice president of the club, invites everyone to visit the House next year, calling it an unforgettable experience.
"I would definitely recommend this event because it is such a rewarding experience to interact with these amazing kids," Samuel said. "You won't regret it at all."
It all started about three years ago, when the then-club president instituted the ACS annual tradition of volunteering at the charity. Emily Flores, senior and co-vice president, was a member of the club since her freshman year, when the trip started, and detailed the setup of the afternoon.
"We have a three hour slot where we as ACS just come in and play with the children. We have crafts set up, games set up, and it is just a ton of fun," Flores said.
Flores explained that the Ronald McDonald House helps families with children suffering from major illnesses, "(aiding) the children by giving them medical assistance and just a place to be safe, because sometimes they don't have enough money to go to other hospitals."
Each year the club has upgraded the activities they planned for the afternoon; the very first year they just played board games, but last year, Flores recounted, the club had an Easter Egg hunt. This year, Flores said they based it around Valentine's Day, with a pink theme, and have a wider variety of activities. Ayla Dvoretsky, senior and current club president, said that, this year, they connected with the children better than ever.
"This event is a way for us to connect to the victims of cancer in a more personal way.  We can interact with them and get to know them better," Dvoretzky said. "This year… we connected to them really well and had a lot of fun."
Looking to the future, both Flores and Dvoretzky want this event to continue, Dvoretzky even encouraging other clubs to join in.
"It's a lot of fun and it makes our club mission make more sense and feel more real. And I definitely recommend other clubs or groups get involved with the Ronald McDonald House …  They have a lot of opportunities and are open to all sorts of events and groups," Dvoretzky said.
Samuel agreed, calling it an "extremely rewarding way to spend a Saturday." She related how well this event fit with her club, and why it was so important to continue it.
"This is one of my favorite events because it is one of the few where we are able to directly interact with patients that are tackling cancer, which is what our club is all about," Samuel said. "It's one of the best feelings to have the tangible knowledge that we are helping kids and putting smiles on their faces."