Taking the road less travelled, how girls find their place in the military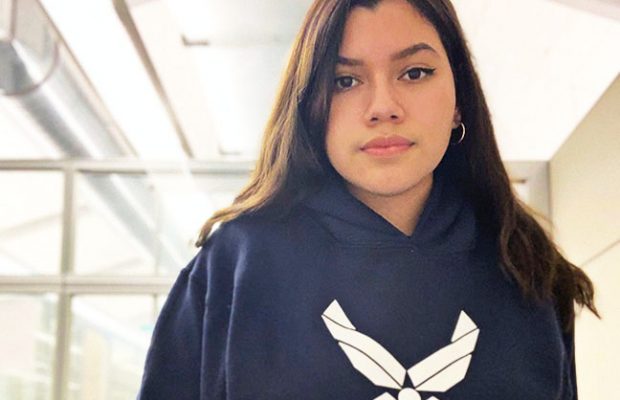 Background
High school graduation is a transitionary period for every senior. Many students continue their education at a junior college or four-year university, excited to attend their choice college; others decide to take a year off to work or set aside time for self-reflection. For some students, graduation means the beginning of a path in the military.
It is not uncommon for students to find themselves interested in programs like Reserve Officers' Training Corps (ROTC) when there are several benefits that come from the training program. Students who have committed to serving in the military after their college education, ROTC cadets, are provided a scope of opportunities. These individuals are eligible for scholarships that cover the hefty costs of tuition, textbooks and other college-related fees for the full four years that a student can use to pursue their educational goals.
Kaira Samuel, senior, made the decision to apply to the ROTC program in November of 2018. Her older sister pursued a similar path after her high school education and is now serving in the Air Force.
Samuel has decided to follow in her sister's footsteps in finding a career within the Air Force branch. "I think that the jobs the Air Force offers are more technical which is what I feel that I would excel at doing, rather than maybe the army or the navy which is more physical," Samuel said.
Samuel's family, having been exposed to the program once already, was incredibly encouraging and supportive of her decisions.
Shelby Scholle, senior, decided to join the army reserves program at the end of her sophomore year for the security it would give her in her future.
"I saw that they had opportunities for me to go get an education, a college education, for free. And then stability and stuff beyond that," Scholle said.
Scholle's journey hasn't been easy though. People sometimes question her judgment when she tells them that she is planning on joining the army. "They think you're just going off to war. But there's so much more than that, it's a bunch of skills that you need and it's a really good lifestyle," Scholle said.
The enlistment process can be complicated, especially for students joining ROTC. They can officially enlist at 17 and a half with parent permission or 18 without parent permission. Then they must go through a test, the ASVAB, Armed Services Vocational Aptitude Battery, and medical examinations, the MEPS, Military Entrance Processing Command.
Andrea Dominguez was eligible to graduate in January which is the month she made the decision to commit to her path to enlistment in the Air Force.
Despite the fact that Dominguez is now completely devoted to her decision, she faced multiple barriers along the way. Initially, Dominguez's parents were skeptical of her commitment to this path; however, ultimately Dominguez, "took lots of time and deep thinking to realize it was the right choice for me and eventually they did feel happy with my choice. It was also hard thinking about all my other options," she said.
Dominguez's decision may be rather unconventional but she is confident in the advantages that will come out of her time in the Air Force.  
"I wanted to have something push me in the right direction, and other than the benefits I'll have after, I'll be mentally stronger and I'll be able to build my life early on," she said.
Gender divide
By 1943, with the help of the Women's Army Corps, women were officially allowed to enlist for military service. Over the last several decades, America's military has seen an increase in female enlistments as gender stereotypes have slowly come crumbling down.
As years have come and gone, the mental image of a typical serviceman has become blurred.
This sentiment has had a lasting impact on the rate of women who decide to pursue a career in the armed forces. "I definitely think that the gap is getting smaller as women are more encouraged to go into the military because I think that it is moving away from having to be this stereotypical strong, brawny military man, it's more about encouraging different aspects of people and how that can be useful to the military," Samuel said. "That being said there are still so many more men than women in the military."
Scholle agrees that the gender divide has been slowly narrowing, and for the better. Women can offer a significant contribution for the advancement of the military and provide many beneficial skills.
"Honestly a woman should be able to do anything a man can do. Men are physically more capable but we're all trained to do the same thing," Scholle said.
Dominguez also feels that despite the fact that the gender disparity is slowly improving, gender stereotypes still play an influential role in the journey taken by female enlistees.
"It's really irritating because I feel like as a female trying to go into the military, people automatically assume I won't be able to handle it or really actually got through it unless I was some sort of buff, masculine female," Dominguez said.
Sharing the path you plan to take after high school graduation is a common bond between students and their friends. Dominguez finds that her girl friends are incredibly supportive and "hyper (her) up" while her guy friends tend to, "make jokes and say i can probably beat them up when I come back," Dominguez said.
Going forward
Making big decisions are never easy, but with support and level-headed thinking any obstacle can be overcome.
Committing to a program like ROTC requires long and hard thought. Samuel attributes this sense of immense responsibility as her biggest hurdle. "I think the biggest thing I considered, and am still considering, is the commitment that I will have after. The five-year commitment afterward to be in the Air Force," Samuel said.
Despite the mental obstacles that come with long term commitments like these, Samuel has found a way to adjust. "I have just been thinking about the fact that just because you are in the military doesn't mean that you are on the front lines. There are so many different things you can do," Samuel said.
Scholle has had to sacrifice a lot throughout her journey to the military. She had to give up her love of playing sports and will be missing her first semester of college.
"I was playing softball and I had to give that up in order to really set my goals. I couldn't do everything so I had to cut stuff out. Obviously missing your fall semester of college, that's a big deal. A lot of people were really judgmental about it when I first told them," Scholle said.
Scholle is both excited and nervous for what is to come. "I'm most nervous for the physical aspect of it. I've always been a physical person, but it's a mental game too, where you have to physically push yourself," she said.
Unlike Samuel and Scholle, Dominguez plans to bypass the ROTC program and to instead immediately enlist when she turns 18. Soon after she completes MEPS and swears in to the Air Force, she will leave for bootcamp.
Once Dominguez completes her four year enlistment, she plans to pursue a career in the medical field as an OBGYN, obstetrician-gynecologist. Her education will largely be covered by the GI Bill she will receive following her time in the service.
The GI Bill aims to provide financial relief for service members who seek higher education following their time in the military. Those who are eligible may also receive a housing allowance and money for textbooks and other school necessities.