Taylor Hertz: Composing his way to a career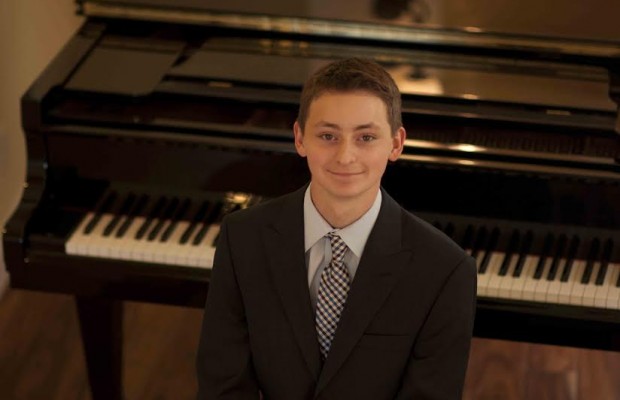 An accomplished pianist and violinist, senior Taylor Hertz both plays music and writes it.  Over the duration of his musical career, Hertz has composed both piano and orchestral music.
Hertz began his musical journey at a very young age. When Hertz was two, his older sister took piano lessons and would often play Beethoven's "Für Elise" on their family piano. One day, their parents heard someone playing the song and walked in expecting to see his older sister playing. Instead, they were surprised to see Hertz tapping away at the keys.
Hertz has composed 41 songs for the piano. "I want (my music) to be as simplistic as possible, but I want it to evoke emotions, I want it to be memorable," Hertz said. Three years ago, Hertz began collaborating with singer Savanna Voigt, senior, to incorporate vocals into his music. The two met in their sophomore English class. Hertz knew that Voigt was in choir and he needed someone to help him practice a song that he was writing at the time. "I (had) never heard her sing when I asked her, but I decided to just go for it," Hertz said.
Now, the two work together to write lyrics for some of Hertz's songs. "She's really good to work with. She has a lot of suggestions for me to make (my music) even better than it is," Hertz said.
Hertz has performed at the Civic Arts Plaza every year since 2008. In addition, Hertz has won the Spring Festival five times, the Music Teachers Association of California Gold Medal Honors Festival twice, made honors in the Certificate of Merit seven times, and gone to statewide competitions in San Diego and Los Angeles. "Taylor is brilliant and he absolutely loves music … he's extremely encouraging and always humble," Voigt said.
In addition to composing on his piano, Hertz also wrote a song for the school orchestra's winter concert last year. This year, he will again compose a song for the orchestra's winter concert, titled "Reverie in G Major".
"I think that Taylor's compositions always have an ethereal quality to them," said Tina Huang, Hertz's orchestra teacher. Huang believes that Hertz's style is unique, and that his pieces are always deliberate and well thought out.
As his time in high school comes to an end, Hertz has begun preparing his application for Juilliard and is thinking about pursuing music as his career. His goal is to study in Juilliard's composition department.
"It's always exciting as a music teacher to see students pursuing music as a profession, and I'm looking forward to seeing him blossom as a composer in the coming years," Huang said.