Tea Time – Issue 8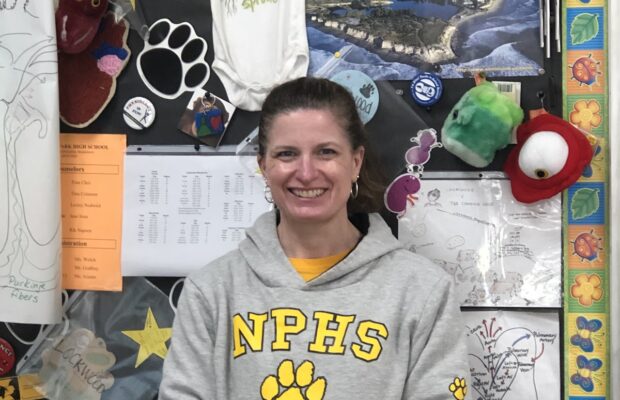 With the start of blended learning, many NPHS teachers have had to teach combo classes, juggling in person and remote students. Jennifer Lockwood, a science teacher at NPHS, is no exception. Read our Tea Time below to see how she feels about this new challenge!
1. What has your experience been with combo class teaching?
The first day was a little weird because it had been the first time I had been in a classroom with students in a year. I did notice that there may be some need for an "un-Zooming" training kind of thing because I asked the class is there something to the effect of "Does everyone get it?" and "Are you okay?" and I got thumbs up. There's a lot of technology, so it is a challenge. I'm learning to teach all over again, but, I feel like I had a better day yesterday than I did the first day.
2. How has it been teaching in person as compared to Zoom?
It is more of a challenge, just in the sense that I'm also doing the combo teaching. If it's just in-person then there are advantages, I get to see everybody, I can look people in the eye, I can say "Do you get it?" or "Do you need help?" If there's a way to do a lab safely in science, then I can do that, or where everybody does their own thing. But when we're in Zoom and cameras are on, I'm able to see people face to face and be able to pull someone into a breakout room and be able to have a one-on-one conversation and no one can hear.
3. What are some of the obstacles you have faced with teaching combo classes so far and how did you solve them or plan to solve them?
I actually spent a lot of time thinking about it, so I log into Zoom so I can see students who are at home, log into Zoom through my desktop and use that to share my screen with students who are at school and on the projector. Then I could be doing both at the same time, in regards to how I hear students at home, as well as students in class, I bought a headset. The district bought them, so that students at home could hear me but I wanted to be able to hear the students in my ear, not just the computer. So I bought a headset that has one ear with a microphone, so that I could hear the people in front of me. Then I went to school and practiced for a couple of hours.
4. If there's one big thing you would change about teaching combo classes, what would it be?
I would hope that students who were at home would feel comfortable enough to ask questions. So that I can hear and help you, or let me know that you are struggling or going too fast. That's the part that I worry about. I can see the people in class, it's easier to engage with them, and I'm worried for the students who are Zooming in. If they don't actively speak up for themselves, then I might not notice that they have a confused look on their face because I am doing two things at the same time.
5. Do you prefer blended learning or remote and why?
There are parts that are good with both. I do miss seeing students so I feel, it almost feels like we're walking back to normal which is exciting. I'm not gonna lie, it is more work to be blended than it is to be remote. In remote, I'm doing the same thing with everybody in that group as opposed to doing two things at the same time. So problem solving becomes more challenging because you have to problem solve for two groups, not just the one group.
6. What do you think the outcome of blended learning will be for both students and teachers?
I think for teachers, we're going to learn how to teach a whole new way. I feel like there's how I used to teach, then there was to complete new learning in spring, was way two. This now is way three, remote stuff, and my fourth way of teaching in the last year, how to do both. I think students who come in will have the benefit to do so, I can just easily talk to you or I can hang back after class and let everybody go, and just ask you. I think it's easier to not drift away when everybody is in the same location. So I think it'll help students become more engaged and on task. I think the downside is they don't get to work as easily together.
7. Did you have to alter your content or teaching style because of the move from remote to blended?
I am going to have to rethink how do you make stuff fit because yes, we went from originally a normal year. We had 90 school days, 95 minutes everyday to teach the content and then going into remote we had 60 school days with 75 minutes each day. Now we're at 65 minutes each day, so students are going to end up with a little bit more independent work each day than they had before.