The winter rally spreads the winter spirit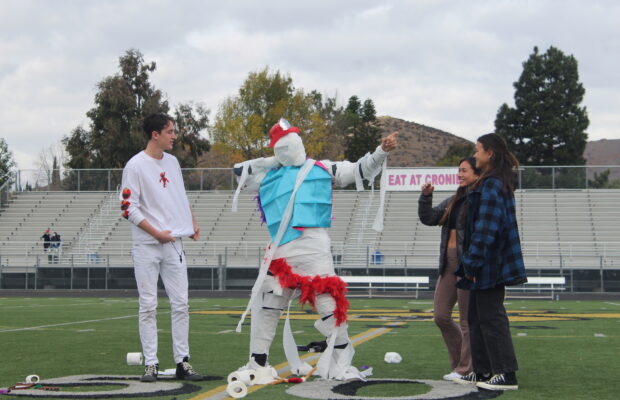 To kick off the final week of school prior to winter break, ASG hosted the annual winter rally on Dec. 13 to spread some holiday cheer. The rally included different performances: our school's cheer team, the dance team, Sparkles, and Chamber Choir. 
The preparation of the rally includes ASG working with the admin and the performers to coordinate how the event will play out. In comparison to previous years, this year's rally included a new activity for different clubs. "[This year we had] our first ever Snowman Decorating Contest. We [had] representatives from Asian Culture Club, Drama Club, Unified Sports, DATA, and [the] Class of 2025 [compete] to wrap their advisor or officer in "snow" and decorated," Carter Kawaguchi, senior, who helped lead the planning of the winter rally.
Judging the competition, Mr. Johnson, Mr. Sagerman, and Mrs. Ellis had to determine which snowman was dressed the best. "We [thought it would] be a fun way to get groups on campus involved and excited for the upcoming winter holidays and break," Kawaguchi said. 
Kailey Johns, senior and varsity cheerleader, had been practicing for the winter rally for two months. "We've had about 2-3 practices a week which are usually about 2-2.5 hours long," Johns said. 
Carrying on the tradition from previous years, the varsity football and cheer teams performed at the winter rally together. "Most of the guys are pretty consistent showing up to practice which is super helpful and we were able to get a lot done. They made our practices super fun and they learned the material really fast so we were able to run full outs for about 3 weeks before the actual rally," Johns said.
This year's rally was hosted by Layla Champlin and Ellie Champlin, seniors and varsity cheerleaders. "Since Ellie and I are pretty much always together, we would randomly throw ideas or funny lines at each other when we thought of something…We're really good at building off each other's energy and…it was fun to just go with the flow and goof off around with Ellie on the field to see what worked," Layla Champlin said. 
Due to the fear that it would be raining on Monday, there was a possibility that the rally would be canceled. "We all thought it was going to be canceled because of the rain, but over the weekend, the admin let us know that it was back on. It was definitely a hectic experience to get all the performers ready and prepare…[but] ASG was an amazing help," Champlin said.