Thomas Fire: the aftermath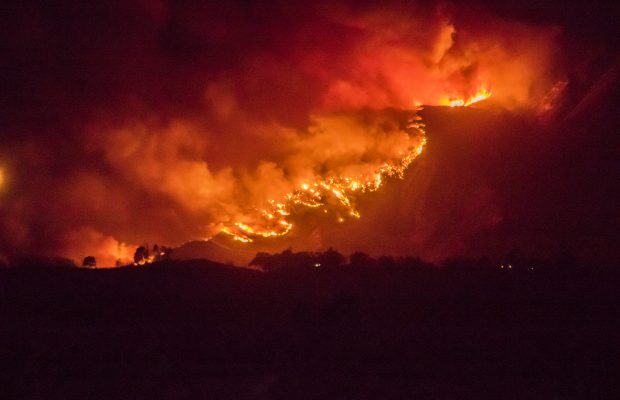 A City Ablaze
In the duration of four stressful days, thousands of families were forced to evacuate from their homes. Several of these families never returned. As the Thomas Fire spread across Southern California, 765 homes were destroyed. On Dec. 5, Jerry Brown, California governor, declared a state of emergency.
The Thomas fire was the most destructive fire Southern California has ever seen, with just over 280,000 acres burned. However, five other different fires erupted during the month of December: The Rye and Creek fires, the Skirball fire, followed by the Liberty and Lilac fires. Families from all regions of Southern California were affected in some way.
Due to the strong winds, 85,000 power outages were in affect. Schools in the Oxnard Union District were shut down for nearly four weeks due to poor air quality. Conejo Valley schools were shut down on Dec. 6 to avoid poor air quality.
When students came back from the day off, many were still worried about the safety of their friends and family. Students were constantly checking their phones for alerts and updates about how far the fire had spread, and if their houses were still intact. With news that the fire was showing no signs of slowing down, many found it hard to focus.
"(I was) a little anxious that the fire could be spreading to my home and other peoples' homes," Katie Rose, junior, said.
The Thomas fire grew extremely quickly, and 230,500 acres were burned in less than a week.
Katie Melchor, senior, lives in Oxnard, about 10 miles from Ventura, and could feel the effects of the fire. "It was a lot of smoke, and you could smell it, and you couldn't go outside for the longest time. Everybody was wearing masks 24/7… It got inside my house, you could smell it in my house, so I was covering my mouth in my house, because we didn't have any masks," Melchor said.
When she first heard about the fire, Melchor was shocked. "So many people are going to lose their homes, I felt so bad, it was almost Christmas."
Shane Everitt, senior, had the same reaction. Living in Ventura, she was much closer to the fire, and could see "a wall of flames barreling down" from her house window.
However, Everitt was not close enough to the fire to have to evacuate their house. "We were taking precautions, thinking about what do we need to grab if we do need to evacuate, but we weren't super worried about evacuating… we were more concerned with the people on the hills, because their houses were burning down."
Eric Martinez, senior at Ventura High School, lives about two blocks away from where the fire burned. The night the fire started, he had to evacuate his home because his house was right in the fire zone. "I was pretty scared and freaked out, but honestly it was more just surreal, like there's a fire, and it's about to roll through here. So when we left my house, I looked back over the hillside, and I could see houses around my neighborhood burning and everything, and it was just honestly really surreal and creepy to see the whole hillside on fire," Martinez said.
He actively fought the fire when it was burning. "My friends and I were driving around to other friends' houses that we knew were in fire zones, and driving past the police and fire line, and going to check up on the houses, turning on the sprinklers, doing things like that," Martinez said.
In addition, him and a few other people went to a neighborhood in Ondulando, Ventura, and "we were just putting out hot spots in the areas that were still burning embers, and we spent a whole day going through and just turning those over and cleaning things up," Martinez said.
Olivia Jacobson, sophomore at Ventura High School, lost her home in the fire the first night it started. Her family had already evacuated after seeing how close the fire was to their house, but only packed a few things, not thinking that their house would actually burn down. Upon finding out about her house, Jacobson was in shock.
"I thought that when they said my house was burning that it was saveable, maybe it was just the garage that was burning, that it wasn't as bad as it was," Jacobson said.
After losing their house, Jacobson and her sister would stay at friends' houses. Even when staying with close friends, there was never really a time for Jacobson to relax. "You would have to be good company, or you have to be entertaining, or you have to always be on the job if you're not by yourself. We didn't have a place to just relax and sit down and just be, because we didn't have a house," Jacobson said.
After the fire, "there was a lot of things I found that were unimportant, it had lost its importance as other things had their importance heightened… I totally forgot about small things. Only the large things that I really cared about. It gave me a good sense of priority," Jacobson said.
The fire was finally contained on Jan. 12, with a total of 281,893 acres burned in both Ventura and Santa Barbara County, making it the largest wildfire in California history. However, containing the fires was not the end of the natural disaster. California soon experienced heavy rains. The fires burned many plants, which in turn caused soil to become loose, and this loose soil combined with rain caused serious mudslides, which killed 17 people, injured 28 and caused more to go missing. More people died from the mudslides than the fires.
While mudslides in Ventura were more contained, they still affected residents in the area.  "They closed the freeway off through Ventura, because they were more concerned about it moving down the freeway, and they wanted to make sure no one was going through that mud area," Everitt said. "I'm scared to see what comes if more rain comes, just because everything is loose now from this past rain, but I don't know what's going to happen."
Sabrina Hamor, senior at La Reina High School, lost her cousins, Sawyer Corey, 12, and Morgan Corey, 25 from mudslides that struck their house in the middle of the night on Jan. 9. Morgan went missing for four days until her body was found on Jan. 13. Sawyer's twin sister, Summer, and their mother, Carrie Baker, went missing as well, but were found and are currently in the hospital.
"It affected my entire family and also my community because obviously I was really close with them, especially my mom. I used to go to Christmas parties with them when I was younger," Hamor said. "It's just really hard to imagine something like this happening with someone close to you. I was shocked because this is something you don't see happening to you. You just see it in the news. It more just shook me to the core."
Even after the fires have been fully contained, many people are still unsafe. They have lost their homes, clothes, and some have lost their friends and family as well. However, citizens across Southern California have come together to help those affected.
Organized Action
Within our school community, NPHS students have come together to help families who have been affected by the December fires.
The last fire the Ventura County community experienced was the 2013 Springs fire in Newbury Park and Camarillo. However, those fires only spread about a fourth of the area that the Thomas fire spread.
Olivia Johnson, senior, initially thought of the fires that happened four years ago when the Thomas Fire first erupted. "I thought it would be mild, and it would not be as severe as it turned out to be, so I think I became really shocked, when a day later, so much damage was caused," Johnson said.
However, after being shocked and horrified by the damage the Thomas fire caused, Johnson teamed up with her friends Lindsay Filgas and Alisha Patel, seniors, to help those affected by the fires. They organized a donation drive in Steve Johnson, history teacher's, classroom where students could bring toiletries, feminine hygiene products, hoodies, socks, and other types of warm clothing, as well as packaged food items and money.
Patel initially thought of the idea to do a donation drive when she had a family, who had lost their house in the fire, stay with in her home.
"It felt good to do something to help, because (the family) did not really have anywhere else to go, but I also felt very helpless; we gave them our clothes, we gave them as much as we could, but we can not give them all their items back," Patel said.
Johnson and Patel did not realize how many donations they would receive. After collecting for two weeks, they dropped off the donations at the Red Cross and a local church in Ventura.
"I think it shows the value of what real community can do, to be able to work around the community and give people necessities that they need and at a huge supply is really awesome." Olivia Johnson said.
Also feeling compelled to help those in need, Mandy DeVos, senior, organized a car wash at her church, raising $600 for fire relief. The proceeds went to Mission Church, who then distributed the money amongst victims. While the fires ended in December, the damage caused is still prominent, and donations can still be made.
"I think anything helps. It can be physical effort, it can be monetary effort, it can really be anything because families who have lost everything– clothes, pets, furniture, and so many more prized possessions. So any kind of donations help," De Vos said.
Martinez agrees. "The best thing you can do as a community is to just donate and show your love and support for the people who are affected by it… a lot of these people are kids who lost their childhood home and they lost everything in it," Martinez said. "It was really really impactful and touched pretty much everyone in Ventura, everyone knows someone who was affected… donating money and clothes and being supporting of people who lost things like the best thing you can possibly do.
The reaction to the fire and the mudslides in Ventura has been one of strength and support.
"There's signs on every tree, on every palm tree, on every fence, and it's like 'hug your neighbor', 'stay with your neighbor,' 'be kind to others,' 'we're all in this together' kind of thing," Everitt said. "Ventura likes to think of it as, this is not something we want pity for. We almost want to move past it, and from there we're gonna be stronger as a community. It's crazy to think that we all are in the same situation, but somehow we feel stronger than being by ourselves, because we are all in this together… the town has been taking it on by storm, and they've literally been so strong, and it's been insane."