Unified Sports holds first tournament of the year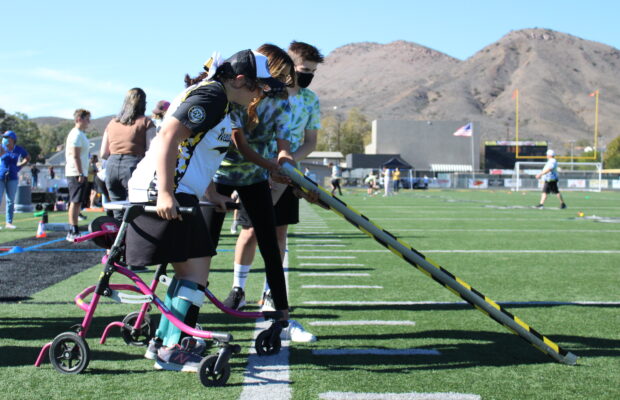 Last Friday, Nov. 12, Unified Sports held their first tournament of the year: a bocce ball tournament against Westlake High School and Thousand Oaks High School. The Newbury Park team won against Thousand Oaks High School but lost to Westlake High School by one game.
Unified Sports is a club that brings together students from the LEAP Program, who have cognitive disabilities, and students without disabilities in one team, with the disabled student being an athlete and the student without disabilities being their partner. The club brings together people from different schools to compete against each other in a variety of sports.
Samantha Stewart is the Unified Sports Co-Sponsor and Organizer at NPHS and the District Liaison for Unified Sports. "Our objective is to foster inclusion, foster friendship, and just foster the nice people school vibe," Stewart said. Stewart works hard with Unified Sports to make sure this goal of inclusion is fulfilled throughout the whole club with the tournaments and the practices. "The tournaments foster inclusion by spotlighting that all individuals are capable of playing sport and having fun while being together. Being able to wear your school's jersey and represent your own high school is an amazing feeling," Stewart said.
One of the athletes, Austin Moncourtois, senior, has been a part of Unified Sports for three years and loves playing in the tournaments. "[I get to] make a lot of friends and go play different sports against different teams and different schools," Moncourtois said.
The partners and the athletes have been working hard over the past few months to prepare for the bocce ball tournament, slowly becoming masters in the sport of bocce ball. "We worked on her underhand throwing with beanbags, and now we're actually playing with the rules and our scorekeepers and everything," Stewart said. The club members met every week to practice the sport and to refine their skills.
Caden Leff, senior, has been a part of Unified Sports for four years and felt very prepared for the tournament. "We've had a couple of run-throughs and just a lot of practices and playing bocce ball," Leff said. The club normally holds many tournaments across the school year, with bocce ball being the first one. In the following months, there will be a basketball and soccer tournament.
Unified Sports brings compassion and acceptance to the community. Everyone in the club across all the schools get to know one other, fostering a sense of inclusion and involvement. "Some of the friends with disabilities may look different or act different and it kind of gives you an opportunity to be around them and really learn and get to know that person and know that…there's nothing wrong with them," Stewart said.