Watchlist system gives new perspective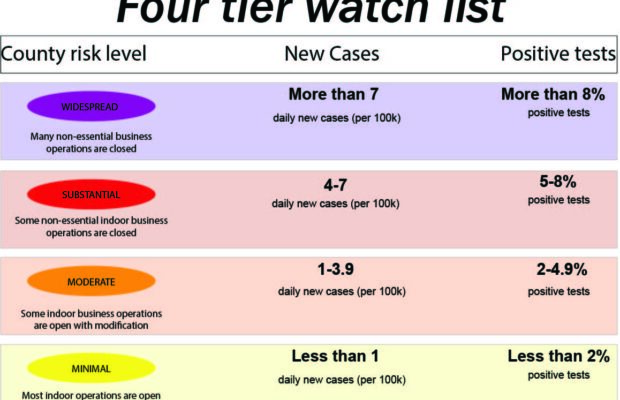 With the COVID-19 pandemic raging on, Governor Newsom and his team of health professionals scrambled to find a system that allows the necessary businesses to open while keeping Californians as safe as possible. 
Although I wish to return to real life just like the vast majority of people, the recently introduced Four Tier System offers a clear, deliberate way to view data, even if it means that the news is not easy to hear.
Ventura County is currently classified as "widespread," otherwise known as the highest risk tier in the system. Los Angeles, along with 36 other counties, join us in this harsh reality, leaving only 13 percent of California on lower tiers, meaning they have lower positivity rates of COVID-19 as well as lower overall cases per day. 
A list dedicated to what can open in certain tiers was also provided when we learned of this new system, as well as the regulations that go along with opening businesses. For the duration of this pandemic, I found myself wondering where to find straightforward information. This is a quicker and more efficient way of getting all of the facts and statistics. Now, with the click of one button, more information is at your fingertips than ever before. 
Taking five minutes to visit the COVID-19 California website and reading the statistics and regulations in your respective county can make navigating what is safe or open practically effortless. According to the California Department of Public Health, Ventura County's COVID-19 positivity rate is around 4 percent. Although our positivity rate is decreasing, case numbers are still rising, this conveys that this pandemic is certainly not over yet.
In addition, this is an exceptional system because it provides the information on the benchmarks the county must pass in order to get moved up on the list. The rules are clear: if Ventura County has an average of 60 or less cases a day for two consecutive weeks, the county moves to the next tier. The higher on the tier list, the more businesses can open. Although a county must stay in its assigned tier for at least three weeks, the requirements are straightforward and easy to comprehend. 
Navigating a global pandemic is no easy task, and our government has taken a burden that no one would ever expect to have to take. For the most part, California's government has done a good job providing its citizens with the desired information. Our state obviously has a long way to go before we can put this pandemic behind us, but this new system is most definitely a turning point.