Wings to Grow supports foster youth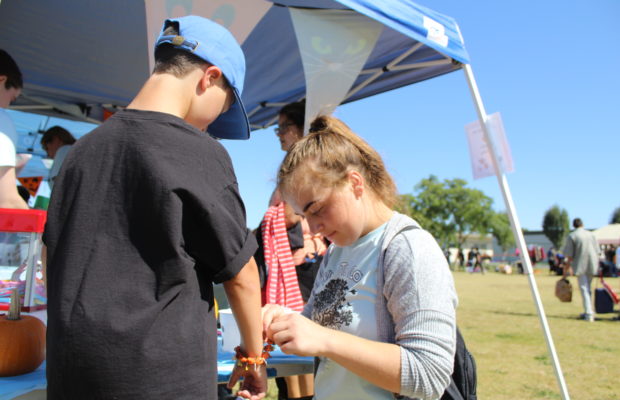 On Oct. 12, Wings to Grow, a club that is dedicated to supporting foster children in Ventura County, attended the ninth annual Harvest Fest in Oxnard, an event organized by the non-profit organization Kids and Families Together.
Nicole Hanover, senior and president, described the event as a way to help foster care children experience the fall spirit through donations and activities. Students from Wings to Grow volunteered to supervise the pumpkin decorating activity at the event. "(We brought) 145 sugar baby pumpkins and (we had) them paint on them and celebrate Halloween," Hanover said.
As the club's president, Hanover was involved in the planning process for the event, especially in terms of contacting local businesses for donations. Fortunately, the club received much more money than expected. "We had originally requested $350, but (Walmart) decided that what we were doing is good… so (they) decided to raise the amount to $500," Hanover said. As a result, the club was able to buy even more supplies to carry out its station.
Jeni Futvoye, community resource manager for Kids and Families Together, has been involved with foster care children for 15 years and helped organize Harvest Fest. She states that the number of families attending the event has increased over the last few years. "Usually we serve about 125 kids and this year we have 170, so you can do the math… we've really increased our capacity and that just tells me that more kids are going into care and more families are finding out about us," Futvoye said. Besides Wings to Grow, organizations that volunteered at the event include James Storehouse, Bikers Against Child Abuse, Calvary Church and SoCal Honda.
Kayleigh Weinstein, senior and treasurer of Wings to Grow, attended Harvest Fest for the first time this year. She describes volunteering and working with foster care children as very rewarding. "It's kind of fun to help put a smile on their face and at least give them a few minutes of fun," Weinstein said. She plans on volunteering at future Wings to Grow events in order to help out more foster care children.
Volunteers at Harvest Fest believe that giving back and staying involved in the community is important and encourage more people to do so," Hanover said. "We should be giving back to kids who don't have that opportunity or the same opportunities that we have."