Women take on the world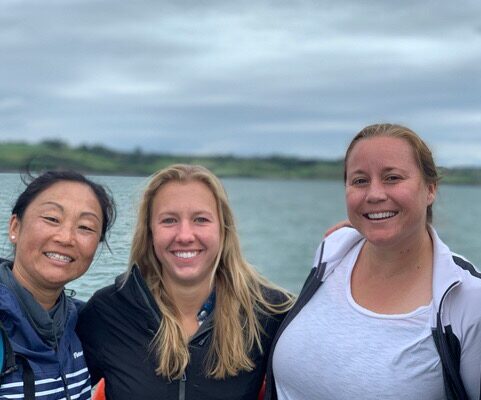 To learn more about the inspirational women in our community, access this link and look on page 8 and 9.
Given decades of the continued fight for equal opportunity, women across the globe celebrate the month of March every year in commemoration of those struggles women have faced. Women come together to cherish and celebrate the accomplishments, the victories and their importance in society. Locally, many women have pushed down the societal barriers by pursuing their jobs and passions in male-dominated work areas.
Women in STEM
Many young women interested in STEM at NPHS participate in activities to further their knowledge and learn alongside like-minded individuals. One of the clubs that facilitates this is Mu Alpha Theta, which allows students with a passion for math to develop their skills further through participating in math competitions. While STEM activities may often be male dominated, students like Ananya Arvind, freshman, and Antonia Ang, junior, joined Mu Alpha Theta to pursue math regardless.
Ang especially enjoys problem solving using numbers and equations. "I have always enjoyed solving puzzles, jigsaw, Rubik's cubes, you name it, and I remember how fun it was," Ang said. "So, I decided to start up again this year."
Women's history month is important for both Arvind and Ang to remember the influential women within mathematics. "It reminds me of all the women who have made significant contributions to our society and have inspired others to do the same. It demonstrates to me that, regardless of gender, anything is possible if you put your mind to it," Arvind said.
Another STEM-oriented club at NPHS is Science Olympiad, where teams of students compete to demonstrate their extensive knowledge in science. Emily Ho, senior, and Lianne King, freshman, joined Science Olympiad to demonstrate their knowledge and compete against other students.
Ho has always enjoyed learning new topics in science, and being the president of Science Olympiad has allowed her to explore the field more in depth. "Science Olympiad always challenged me in niche topics like circuit building or biotechnology or anatomy. I like how even if I briefly learn about these topics at school, SciOly makes me take it to the next level of understanding," Ho said.
King shares a love of science, and joining this club has encouraged her to pursue a career in STEM in the future. "I hope to have a career in STEM. I'm not sure what I want to do, but I enjoy CS and biology," King said.
Although the number of girls on the Science Olympiad team has increased this year, Ho hopes to see more female participation. "I ended up reaching out to a bunch of rising freshman girls from a local middle school interested in STEM to talk to them about SciOly and other science opportunities at NPHS," Ho said.
Student Organizations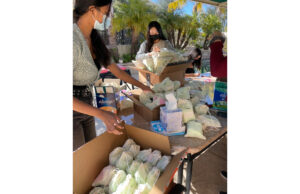 Many students at NPHS have come together to create and participate in women's rights-related clubs. One of these clubs, Periods with Pride, is a branch of a statewide organization centered around collecting menstrual products and educating people on period poverty.
Nikitha Lakshminarayanan, founder of Periods with Pride, is currently a student at USC and created the group after a visit to a homeless shelter, where she learned some women could not afford to buy their own menstrual products. "Something that I took for granted every single month was something that was so difficult for her to get," Lakshminarayanan said. "We decided to host a drive to collect products within our community. And within one week, we were able to collect enough products to supply over 50 women for an entire year."
This month, the organization is using its social media to educate the community on women who have fought for menstrual equity. "We really resonated with the fact that we really want to challenge inequality, gender stereotypes and challenge ourselves to make a difference in the world around us," Lakshminarayanan said.
At NPHS, Himani Pothulu, sophomore, is the co-president of the Newbury Park branch of the organization. "Menstruation is such a big thing that's not talked about, normalizing it and making it talked about more, it's really nice," said Pothulu. She hopes that working with Periods with Pride will help normalize menstruation for everyone, especially at school.
Another club on campus that promotes female empowerment is GirlUp, where students meet to have discussions on issues related to gender inequity. Sophia Distefano, sophomore, is the current secretary and joined her freshman year to further her activism. "It felt like a good place to start and kind of started using my voice and building myself as an activist… I like to focus on women's rights," Distefano said.
Currently, the club is underway in celebrations of Women's History Month by sharing information to members about significant women in history. "We are doing presentations on women that were really impactful in history and who use their voices to kind of change society at the time," Distefano said.
Women in leadership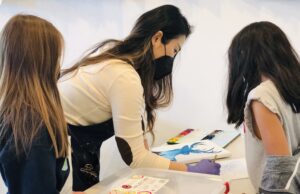 In our community, many inspirational women have taken on leadership positions, breaking the gender barrier by being able to dictate their own lives and what the future holds for them.
Kelly Welch, assistant principal of attendance, has faced obstacles from being a woman in charge. In her prior years as the assistant principal of athletics, Welch attended the Southern California District Meetings and noticed how her remarks were taken in comparison to those of men. "There would be times where I felt that I would provide an opinion about something that we were deciding for high school sports, [and] there were some men that chuckled or [rolled] their eyes," Welch said.
These struggles transcend beyond the school community. Claudia Bill de la Peña, mayor of Thousand Oaks, works hard to lead the community. As a Hispanic woman, Peña believes that much of her struggle has come from being a woman of color. "When I say that I didn't struggle as a woman, that's because I struggled more with my ethnicity. I was told when I ran for city council that I would never win elected office with the last name of de la Peña, and I proved them wrong," Peña said.
In another government office, CVUSD board president, Jenny Fitzgerald, has worked hard to represent our district. While campaigning, Fitzgerald noticed the public would ask her questions that were not asked of other male candidates. "Some of it had to do with the fact that I'm a woman and a mom, and there were a lot of questions about my background with things, like PTA and school volunteering…but not questions about my professional background [and] the skills that I had from that," Fitzgerald said.
Coming from a country where women were not seen working after marriage, Ina Casem broke the stereotype, and then transformed her passion for art into inArt Academy, her business in Dos Vientos. Casem has accomplished her dreams while balancing her family life, one of the hardest struggles a woman faces. "When I got married, I left my job as a teacher… [But] it wasn't until I met another businesswoman in Korea who ran a franchise of [Art Hagwons, a private art institution] where I got my inspiration. She was married, had children and a thriving business," Casem said. Casem then put her plans into motion, and the inArt Academy was born. "I knew then that I could definitely do this…I started small and taught the children of my close friends [and] before I knew it, I needed a bigger space to house all my art supplies," Casem said.
These four women are just a few of many who continuously prove that gender stereotypes cannot, and will not, prevent them from pursuing their careers and passions. These powerful women break down the barriers put up by society.