Burgerim slides short of expectations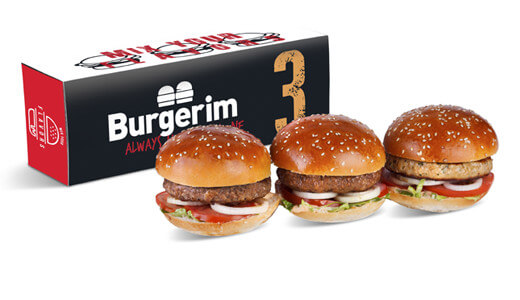 At the corner of the Ventu Park Center in Newbury Park, the relocation of Starbucks prompted a curious buzz in the community: what store would take its place? When signs for Burgerim appeared on the windows, I knew I had to try it.
After gaining popularity at its first location in Israel, more sites have been popping up around the world, like the one in our little town. This fast-casual restaurant takes orders at the counter and has a server deliver the food to your table.
Immediately upon entering the premise, my family and I stepped into a clean, well-lit and modernly designed space, greeted by a friendly worker who thoroughly went through the menu with us. He focused on their customizable mini burgers, sold in packs of two, three or the party pack of 16, detailing the choices of meat and suggesting the dry-aged beef patty whose flavor was supposedly enhanced by the 28 day aging process.
At the cashier's suggestion, I ordered a two pack with the dry-aged beef and the veggie burger, both with the standard toppings (lettuce, tomato, onion and thousand island dressing) as well as a side of half onion rings and half sweet potato and a drink. Burgerim also offers a decent array of extra toppings, including cheese, avocado, bacon, and more, which cost extra money.
Despite declaring fast service, we waited around 20 minutes for our food, and there were only two other customers there. In fact, the worker to customer ratio was an oddity; there was more than double the number of workers than there were patrons.
When the food finally came, we were given metal trays holding a box with our burgers in it and a sleeve of cardboard for our sides, Chik-fil-a style; this didn't lead to the most Snapchat worthy photo, but I wasn't about to judge a burger by its box. Eating a couple sweet potato fries first, I was pleasantly surprised by its crispy exterior and balanced salty, sweet flavor. Next were the onion rings, and it was an almost perfectly salty, crunchy, onion-y bite (and it gets extra points for not falling apart).
However, the main part of my meal was a disappointment. The veggie burger had an overcooked, hard bun, and the patty was too moist, though the flavor wasn't bad. Perhaps because of my high expectations, the dry-aged beef burger fell especially flat, tasting very ordinary. More annoyingly, the toppings on all of the burgers kept falling out, and there was more bun than patty.
Sampling my mom's salad and my brother's chicken burger and regular fries, I instantly regretted my order. While the salad dressing was not very flavorful, the creamy cheese, salty walnuts and sweet tanginess of the strawberries made for a yummy bite. The chicken burger, surprisingly, was moist and savory and filled with herbs, and the other potato fries, cut in mini discs, were crispy and nicely salted.
As a self-proclaimed foodie, I was excited about this place for weeks before it opened, but it definitely missed the mark. With its generic tasting burgers and long wait time, I might as well make the burgers at home, or go to In-n-Out. However, with the redeeming factor of the fantastic sides and its large menu, I might give it another try. For those of you that do give it a chance, I suggest a two burger pack of the chicken burger and a beef burger (for both, regular bun and standard toppings, unless you are not as stingy as I am), and half onion rings and whichever kind of fry you like (you can't go wrong with either but onion rings are a must).