Clubs that are sports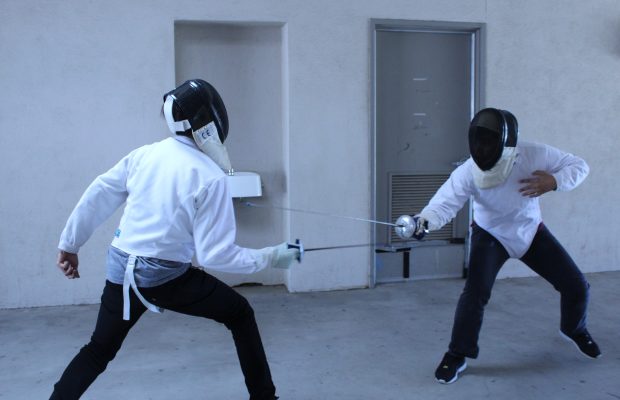 Newbury Park has a wide variety of different clubs on campus, some of which revolve around sports. These clubs do not require as much commitment as most sports teams do, which is helpful for students with busy schedules. These are some of them.
Fencing
Although fencing is considered a "niche" sport, students didn't hesitate to establish the Fencing Club on campus. Meeting every Wednesday and Thursday after school in B23, the Fencing Club provides lessons and a place for students to get together and share their passion for fencing.  
"We have lessons given by me to practice basic maneuvers and technique. After that it's free fencing time," Jason Lin, club president, said.
Relying on personal skill, Lin says it's unique in the way that, "it all depends on you, it's not a basic teamwork. You figure out what your opponent's doing, you perform solutions and you try to beat them."
Bryan Pocasangre, junior, heard about the club when he was interviewing the former club president for yearbook. His favorite part of the club is "the opportunity to talk to friends who have the same interests."
Lin and Pocasangre both have the same goal for this new school year: expand the club to teach more students on campus about their sport.
"Fencing is a national sport, a very interesting sport, everybody can play. You don't have to know how to play, we can teach you and mainly I want to make people play and enjoy it," Pocasangre said.
Mountain Bike Team
Mountain biking is a popular sport here in Newbury Park because of all the different trails in the area, and the Mountain Bike team attracts many members.
The team practices on Mondays, Wednesdays and Thursdays for one and a half hour, and again on Saturday for three hours at Wendy Felton trail head. With high school and middle school programs, the Mountain Biking Team has 100 members and is one of the biggest clubs on campus as well as one of the biggest teams in SoCal.
Amber Ramirez, senior and team president, joined the team six years ago in middle school because of her sister and says she doesn't "regret it at all."
"It's a fun interaction and you get to enjoy yourself, ride and have fun," Ramirez said. "It's not all about competitions, it's just about having fun and meeting new people, getting involved in biking, trying new things and exploring an adventure."
The team competes every other week from February to June and is currently ranked second in the state.
"People are so excited to be a part of (the Mountain Bike Team), they have a lot of fun and share the same things that they love. Uphilling, downhilling, it's just the vibe about it that's pretty cool," Ramirez said.
Frisbee club
A sport that involves strategy, agility and teamwork without the hassle of much commitment is often hard to come by, but many students have found this in the Ultimate Frisbee Club.   Evan Milhaupt, senior and club president, originally joined the club his sophomore year as a way to make friends who share his love of sports. Now, Milhaupt encourages others to follow in his footsteps and try out ultimate frisbee.
"You'll meet new people and it's not very difficult- you don't have to be physically strong or anything," Milhaupt said. "You just run around, pass the disc and make some friends."
Jackson Wells, senior, joined Ultimate Frisbee Club his freshman year and has continued to play throughout high school.
"I had a lot of fun doing it, and I've been trying to get people out ever since," Wells said.
Milhaupt enjoys the club's practices every Friday at Borchard Park, saying, "After a whole stressful week of doing homework, I get to go out to the park and play some sports with some friends."
The club plays in small practice tournaments throughout the year as well as a big tournament in the spring, which they hope to win for the third year in a row.
Overall, Wells treasures the exercise and experiences he has gained from ultimate frisbee. "It's just a really good feeling being there and it (has) served me as this exercise in the off season (of lacrosse) that I could do. It's really fun, a good group," Wells said.
Ping Pong Club
Ping pong has been around since the late 1880's, and several students have brought this to campus in hopes of making it popular here. The club meets every Thursday at lunch in Mr. Kim's room, D-23.
Rafael Gabra, senior and president of the Ping Pong club, restarted the club with Ankit Madhavan, senior and vice president, after the club had a five year hiatus.
Gabra's main hope before starting the club was that "everyone who enjoys ping pong could have somewhere to play it regularly, enjoy their time with friends, have some tournaments and get to the competitive aspect of it."
Madhavan also hopes that students who join the club will have fun.
"I look forward to just seeing smiles on people's faces when they play ping pong," Madhavan said. "Ping pong is such a nice sport for everyone to build a really good community."
The club is planning on hosting a tournament once a month, where people "bracket play and see who is the best at ping pong."
Gabra says he hopes to lay a good foundation for the club, "so it carries on to the future of this school, so people can keep playing as much as they want." Madhavan hopes that students who join can "play, compete and have fun."
"You don't need any prior skill for this," Madhavan said. "You can just come in and you can just play and hang out and have fun."