Fall Sports Preview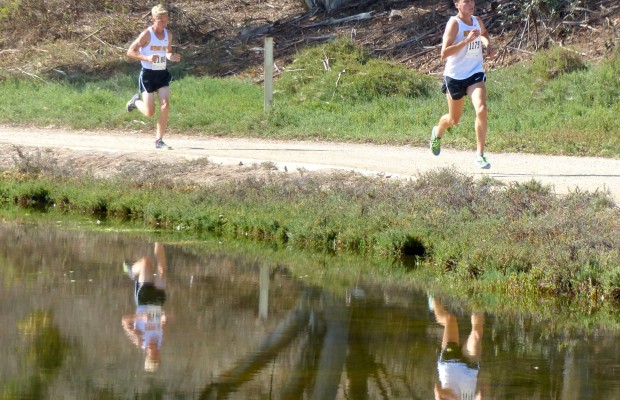 With school back in session, the fall sports teams have returned prepared to dominate. Whether it is on the field or a court, in the pool, on the green, or on the trails at Mt. SAC, NPHS student athletes have always been an impressive sight to see. Here is what we can look forward to in this athletic season.
The girls' varsity cross country team is returning as league champions and is training hard to defend that title, running a total of 35 to 40 miles a week.
"Our goal is to make it to State," Swathi Samuel, a varsity senior, said. Agoura and Thousand Oaks High School pose the largest threats to the team. "We have a big target on our backs," she said referring to the league title.
The men's varsity cross country team will also see the most competition from T.O. and Agoura.
"Marmonte League has gotten a lot weaker," said Logan Beteta, senior, "but there is still a good amount of talent at Agoura which keeps our league looking strong."
The team's goal is to have runners finish within 20 seconds of each other in order to beat rival T.O. "Some of the team's strengths are that we all have very good team unity and we all don't run for ourselves but for each other," Beteta commented.
This year, the girl's varsity volleyball team is led by seniors Emily Coleman, who is already commited to Point Loma for the sport, and Kayla Overbeck, who is committed to Vanderbilt for basketball.
"We've changed the way we run the whole program," Coleman said. With a stronger bond between the players which Overbeck described as a "family atmosphere,"  the girl's varsity team is poised to have a good year. "We're the underdogs," Overbeck added, "We're out to get everyone."
The team's ultimate goal is to win league, with Oaks Christian posing the largest threat.
Girl's golf is also focusing on team spirit for a stronger season. "We have a lot of tough competitions so I really want the girls to work hard on their game but also have the most fun they can," Golfer Skyler Woods said. "This is because golf is a game that takes hours of practice and we don't always get the result we want." The girls have been practicing almost everyday after school on course in order to face Oaks Christian and Westlake, which are currently the team's biggest rivals.
Oaks Christian also poses a threat to the girl's tennis team, led by captains Cate Saylors and Katey Guntner. Because there are only three returning seniors to varsity girl's tennis, and nine new players, the captains are looking forward to getting to know their teammates and building stronger bonds between the players. With stronger team unity, and persistent training, the team hopes to defeat their main rivals Oaks and Westlake High School. "We practice every day like it's a game," Guntner said.
Meanwhile, men's varsity water polo will be working hard to bring team unity into focus. "The team has great individual talent, but not enough cohesion," said varsity captain Alex Sefayan, "Everyone's trying to carry the team." Sefayan puts team bonding high on the list of goals this upcoming season, as well as taking practice more seriously. "We are in a good position to win league if players work together," Sefayan said.
Before the first game of the school year, the Newbury Park football team suffered a tragic loss with the death of teammate Daniel Morales, a 16-year-old varsity defensive lineman and fullback. Center defensive end and team captain, Seth Evans, explained that the team's loss has made them come together, bringing more focus and dedication.  
"We fought for Daniel and we fought for each other," Evans said. The team aims to defend their league title won last year by beating rival school, Thousand Oaks High School. As for how the team was going to prepare for the fall season, said Evans, "You can't really prep for the season, you can only prep for the game, and take it one game at a time."
This fall sports season is sure to be one to watch, so make sure to check the NPHS athletics website for upcoming events and games both home and away.