Focusing on focus on NP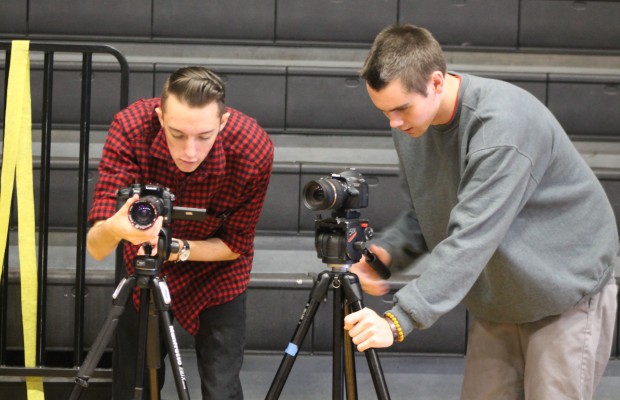 At the beginning of this school year, the administration asked the Video Production class to shine light on campus clubs and programs. The class created "Focus on Newbury Park", a new weekly TV segment that airs on Thursdays. As of now, they have nearly 30 complete "focuses" waiting to air on Panther TV.
However, while the focus segments appear to be short and sweet, there is a lot of effort that goes on behind the scenes to make each TV special possible. Derek Grimes, Video Production teacher, has been assigning each of his students 2-3 programs to cover.
Video Production students Conrad Jones and Alex Meinhof, sophomores, described the difficulties of preparing segments of Focus on NP. "The hardest part is editing and filming the video. It takes a lot of effort," said Jones.
"Not to mention getting interviews with people and talking to them and getting all the information needed to film (the focuses) completely," added Meinhof.
Students in programs that have been featured are also impressed by the work done by the Focus on NP team. "I thought our Focus on NP was great," said Margaux Jones, senior and member of peer counseling. "It represented our club really well and it was great that they got footage from Acceptance Week which is our main event."
Jones added that many students contacted the club following the focus segment: "I heard from our advisor, Mr. Colangelo, that (there were) a lot of people who contacted him. They were interested in both volunteering as counselors and as people wanting a peer counselor … It had a really great impact on our club."
"Being filmed for Focus on NP was awesome. I think (being filmed) was so well put together, especially the camera work. I didn't have to do anything to prepare and everything flowed nicely," said Henry Horita, senior, also a peer counselor. "I was super excited to have a new medium to show the school what Peer Counseling is all about and begin to make our presence larger on campus."
Not only are the Focus on NP segments beneficial to the student body as a whole for informational purposes, they are also rewarding for the students behind the camera. "Just the aspect of meeting and collaborating with people and working on a long-term creative project has been really enjoyable," Meinhof said.
The student body has so far responded positively to the episodes that have aired. "I think overall we've gotten a pretty good reaction," Jones said. "We hear a lot of people complimenting them, so I think they are overall doing their job: showcasing the programs."