Kobe says goodbye one last time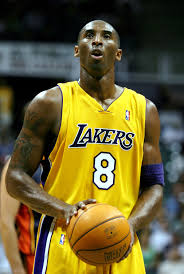 Ten seconds left on the clock. Lakers down by two. Kobe grabs the rebound and flashes down the court. Four seconds left. The shot goes up. Three… Two… One… Kobe Bryant wins the game for the Lakers!
After 20 years playing with the Lakers, Kobe Bryant has immortalized this iconic scene into the minds of every basketball fan who ever saw him play. Kobe has gone down in history as one of the greatest ever to play the game, winning three championships as No. 8 and two as No. 24.
On Dec. 18, both of Kobe's jerseys were unveiled in the rafters of Staples Center, among legends like James Worthy, Magic Johnson, Kareem Abdul-Jabbar and Shaquille O'Neal. The ceremony opened with a flip-book styled movie of Kobe's basketball career and his drive to play the game that set him apart from others. Magic Johnson then continued with a heartwarming speech commemorating Kobe, calling him the "greatest to ever wear the purple and gold."Basketball legends Bill Russell, Kareem Abdul-Jabbar, Shaq and Allen Iverson were all in attendance to support Kobe. After Magic's speech, the owner of the Lakers, Jeanie Buss, delivered a heartfelt speech that brought even herself to tears.
When Kobe took the mic, the crowd hushed and listened intently to his words, only to erupt into an uproar at his first words. Many of the fans in the stands had been watching him play and mature for all 20 years of his unbelievable career. They undoubtedly were remembering his 81 point game as well as his 135 games were he scored 40 or more points. No other player will ever be able to best his final performance of 60 points at the age of 37. Kobe thanked his wife, crediting his success to the drive that she provided for him, and delivered an important message to his daughters as their father. To end the speech, he put the mic down after one last, "Mamba out!"