News in Brief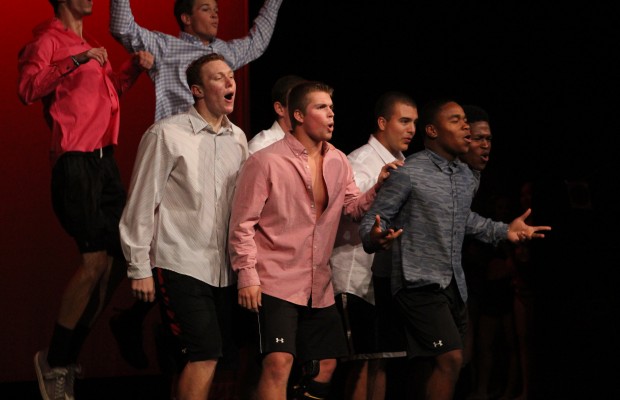 The Prowler wins a Pacemaker
On April 18, the National Scholastic Press Association of America (NSPA) awarded the Panther Prowler an Online Pacemaker Award, largely considered the highest honor in online student journalism. Co-Editor-in-Chief Grace O'Toole, senior, traveled to Denver, Colorado to enter the publication and website in the National High School Journalism Convention. Pacemaker finalists are judged based on their "coverage and content, quality of writing and reporting, leadership on the opinion page, evidence of in-depth reporting, design, photography, art and graphics." This is the first year that the Prowler has focused on having an online presence that supplements their newspaper. The Prowler was also awarded sixth place for Best in Show for their website as well as seventh place for Best in Show for their print publication.
Rancho Campana ready for inaugural class
Two years after the opening of the school was announced and a year after construction began, Rancho Campana High School is ready to welcome its inaugural class. On Sept. 2, Rancho Campana, with principal Roger Adams, will open its doors to 700 new students.
In the summer of 2013, Oxnard Union High School District announced that they would be building a new high school near the Camarillo library. "Camarillo has been fighting to have another school besides (Adolfo Camarillo High School) because they're afraid that everybody's transferring (to Newbury Park)," Laney Nemets, freshman at NPHS, said. Nemets explained that the school will be an alternative place for students who live in Camarillo but who don't want to attend Adolfo Camarillo High School.
Nemets applied to the school in October when the first round of students was admitted. The school was looking to accept 200 freshmen and 200 sophomores for the 2015-2016 school year at that time. However, they were forced to reopen the application pool in January after they didn't get enough sophomores.
Rancho Campana is unlike any other school in the district – it plans to separate its students into three different academies – health sciences, engineering, and performing arts. "You get placed in an academy for all four years and then all of your classes are geared towards that," Nemets said.
K9 for warriors
The Canines for Warriors project was a project set up by juniors Anastasia Pyrinis and Trysten Myers through the Thousand Oaks Rotary International program. The purpose of the project is to raise money to get therapy dogs that will provide companionship and support to ex-soldiers who have been discharged from their military assignment due to a traumatic event.
In addition to their fundraising campaign, Pyrinis and Myers also set up an event on April 19 at the North Ranch Country Club to promote awareness and bring in more donations. At the event, speakers such as Sergeant Robert Graham, Rotary District Governor Lorretta Butts, and a representative from Julia Brownley's office encouraged attendees to donate money alongside special guest performances by NPHS student band Paper and a Jazz band led by trombonist Ira Nepus.
The event raised approximately $2596.00, which is enough to get two dogs for veterans. "Canines for Warriors was extremely successful, considering the amount of money we made," said Pyrinis. "But next year we can make it more successful because we have the framework for it and know what to do."
NPHS app updated to include "Beep"
On April. 10, the App Club released an update called "Beep" for their app "Newbury Park High". Beep allows users to anonymously share their opinions, shoutouts, and jokes. "It allows people to share their opinion without being scrutinized for it," said Harsh Karia, club president and junior.
The club credits Kevin Norgaard, junior, for helping invent the idea for Beep. "Kevin Norgaard came up with the user experience for beep. We basically redesigned the app and Kevin came up with the idea for the experience for the design," Karia said.
In two months, the club has created a platform that now services all of the school, and not solely students in extracurricular activities. They hope it will increase the number of students on the app, which will in turn encourage more clubs to begin using it.
"I think it can be a really powerful thing because it connects students together," Karia said.
#Instafame
Dance team took the stage one last time to wrap up their award-winning season in their spring concert "Instafame" on April 23-25. In addition, the concert served as a farewell to the team's graduating seniors.
As the seniors performed their final dance, team members gathered on stage to watch it for the first time. "We don't actually (see) it until the performance," Mia Clark, freshman, said.
"It shows our emotions. Our song was a voiceover so we were … talking and dancing to it which was really awesome," Makayla Jimenez, senior, said. "Everyone gets really emotional and it's like a connection between the team."
This year, seniors Shelby Rini, Sabrina Parker, and Natalie Herder decided to choreograph a dance for the football team, marking the first time that a sports team has danced on stage at an NPHS dance concert. The players who were interested spent two months rehearsing to prepare the dance for the concert. "It was very entertaining and I think it had a lot of crowd appeal," Jimenez said.