Nobody should have to lavish for love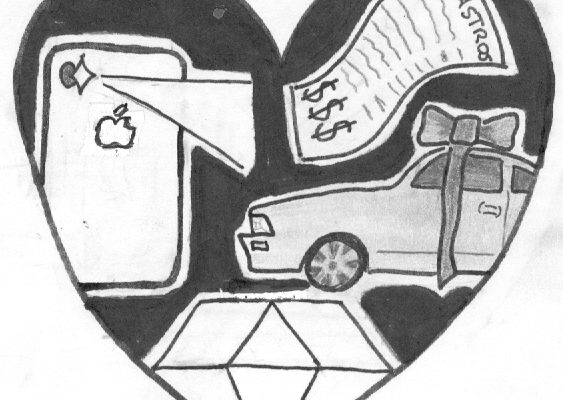 Valentine's Day — stereotypically, the most romantic day of the year. Although this holiday is meant to celebrate the genuine love people have for each other, the pressure is on for couples to flaunt their romantic gestures.
The common question we get is "What are you going to do for Valentine's Day?" It's not an offensive question, but we often see a look of disappointment or confusion when we say that we are just going to hang out and enjoy each other's company.
On the Instagram explore page, there are countless videos of extravagant romantic gestures for Valentine's Day. It tends to give people a false perception of "what most couples do" on special occasions. On top of that, many expensive things like cars, TVs and smartphones go on sale for Valentine's Day, encouraging people to buy their partner's affection with a non-romantic material gift.
The way we see it, love should not be defined by elaborate romantic gestures or expensive items. You should not have to impress your significant other with materialistic things to convince them to love you. Rather, your partner should love you for the little things you do for them, like giving you compliments or holding your hand.
With that being said, we are not totally anti-materialist. We exchanged gifts on Valentine's Day, but they were thoughtful, not expensive. They were just enough to make the day special.
      We also had a great night just hanging out, surfing Netflix and eating pizza. A quality Valentine's Day can cost as little as 12 bucks, and staying in sweatpants is an added bonus.
This is not to say that couples should never do anything elaborate for Valentine's Day. If fancy dinners and expensive gifts make your partner happy, that is fine, as long as you are not doing it just for Instagram or to prove to the masses that your relationship is legitimate.  
For us, the only difference between Valentine's Day and any other day is the fact that we got each other gifts. We are reminded everyday why we love each other, which is probably why it did not feel much different.
       Now for the cheesy sentiment. The best thing about having a valentine on Valentine's Day is just appreciating the fact that they exist and are a part of your life. No gift or elaborate date could beat that feeling.