Rindi Kessler rides to the top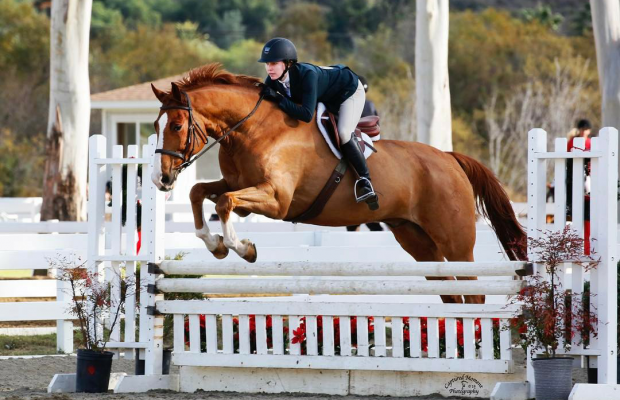 Sitting up straight, junior Rindi Kessler and her horse gracefully ride around the show jumping course. Looking upon the crowd watching anxiously from the side, Kessler glides over each fence feeling the rush of wind past her face. Riding in competitions is not a rare occurrence for Kessler; in fact, she has accumulated enough points from competitions in the Greater San Diego Hunter Jumper Association (GSDHLA) in the past year to one of the top riders in the area.
Kessler and her horse Princeton have received third place overall in the Modified Junior Amateur Division, where the horse and rider are scored based on their performance jumping over three feet fences. She and her other horse, Brio, have also placed sixth overall in the Baby Green Hunters, where the horse and rider are scored based on their performance jumping over fences 2 feet 6 inches high.
"(I have) a lot of pride, and I'm generally happy for her (winning) because she has put her entire life into this sport and it's nice for her to get recognition for it," Roo Petter, Kessler's aunt and coach, said.
Petter believes Kessler's success was derived from Kessler's commitment and effort throughout the year.
"She has clear cut goals this year that has really helped her focus this year on what she wants. And I do think the the relationship with the horses she has right now is really a game changer," Petter said.
Kessler also justifies her win with her years of experience and devotion to the sport. She began riding at age three after being influenced by her family members. Her mother and her aunt, who is now her trainer, both grew up riding and continue today.
"Ever since I was little my mom had a horse and I loved it. I would always want to go out and ride it and take care of it with her, so it's just always been in my blood," Kessler said.
Originally, Petter lived in Santa Barbara where Kessler would go to train, but Petter has since moved to San Diego. To continue her training with Petter, Kessler began taking a four hour train ride down to San Diego on the weekends to attend lessons and to take care of her two competition horses: Princeton and Brio.
During practice, Kessler trains as many horses as possible in the time period, working on improving her own riding ability along with the horses' muscle memory. Petter constantly tries to push her to improve, which also helps to evolve her personal work ethic.
"I am a hard coach; I constantly push her. I don't believe practice makes perfect. I believe perfect practice makes perfect, so we go for perfection every moment," Petter said.
Afterwards, Kessler feeds, grooms, and blankets the horses in the barn, which she does herself, instead of having a groom do the work, as she loves to be around her horses.
"A lot of girls have grooms but I don't really believe in that. The reason I ride and why I have horses is because I love being with them and taking care of them. I just love being out there interacting with the horse; it's just such a unique experience," Kessler said.
In addition to training with Petter, Kessler also practices riding everyday after school on the Dos Vientos trails with her retired competition horse Turner. Spending her weekends in San Diego and her afterschool time riding in Dos Vientos, along with juggling school work and other activities, has forced Kessler to plan her time wisely.
"I've been able to manage my schedule and cut out slivers of time for each thing I do, which has definitely helped because now it prepares me for college and life after that," Kessler said. "I think time management is a really important thing to have (when) horseback riding …  because it is so time consuming and balancing that with school has taught me a lot. It's tough but I'm able to do it."
Petter agrees that years of horseback riding have benefitted Kessler in more ways than one.
"Of course her riding skill has improved over the years as she is able to ride any horse I can put her on, but I think in terms of growing and maturing as a person, you can really see her grow as in terms of attention to detail and responsibility," Petter said. "I think those are huge things for her. She can take any constructive criticism; you can be really hard on her and she will continue. In taking defeat and in winning, she does it with grace and I think those are very important in maturity."
In addition to being a competitor in individual competitions, Kessler is also co-President of the Equestrian Club. Members of the club participate in the Interscholastic Equestrian League (IEL) where schools in the Los Angeles region compete in Freshman-Sophomore, Junior Varsity, and Varsity divisions based on skill. Kessler was a champion for jumping in the junior varsity division out of 200 other girls competing in the region.
"A lot of girls put in a lot of effort and compete at the shows, so it is a pretty big deal," Kessler said.
Although riders all train and compete individually, points awarded to each rider of the school at competitions are added together at the end of the year to determine the school's ranking for the year. The club has accumulated more points this year so far as membership has grown.
"We have nine (riders) this year, which is awesome because it's not a popular sport and our team does exceptionally well (at competitions),"  Kessler said.
Kessler plans to work harder next year and improve in her overall score in both divisions in the GSDHJA and hopes to potentially attend a college with a division one equestrian team.
"I'm going to continue to train next year in San Diego and continue to compete in IEL and on my own and I'm going to keep pushing through even when it gets tough because perseverance is really important," Kessler said.