Slam Dunkers shoot for inclusion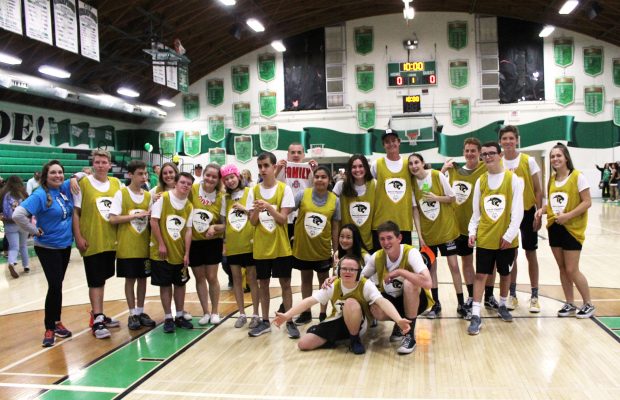 Crowds cheer as a student dribbles the ball across the court in an attempt to make a basket. As he approaches the three-point line, spectators hold their breath in anticipation. He shoots, he scores and the crowd goes wild.
On March 15, 20 and 25, CVUSD held its Unified Basketball Games at various schools throughout the district. Special education students were able to play alongside their peers in a series of basketball tournaments supported by staff, students and family members.
Each tournament started at 10:30 a.m. and consisted of 10-minute halves, lasting a duration of 20 minutes total. At the beginning of each tournament, the different schools playing in the tournaments were announced. CVUSD organized inclusive basketball games in partnership with Special Olympics Southern California, an organization that supports people with special needs across Southern California in their sports, education and athlete health.
The first basketball tournament was held at Newbury Park High School and held two games. Adolfo Camarillo High School played against the home team and Thousand Oaks High School played against Westlake High School. The halftime show featured the NPHS Sparkles cheerleaders performing a dance. NPHS won their game and Hannah Neiyer, senior, played a big role in supporting the students throughout this basketball season.
"I've been the event coordinator for the basketball game that we hosted. We hosted the first basketball game and I pretty much was the leader in charge of making sure all the corresponding parts came together and that ASG was there. I'm in ASG and Sparkles and I just made sure the whole event flowed the way it was supposed to," Neiyer said.
Neiyer performed in the halftime show with Sparkles, and played in the basketball games with the Slam Dunkers. Slam Dunkers is a club on the NPHS campus that unites students with and without disabilities and encourages them to play basketball. The club competes in tournaments throughout the district and is run by Jennifer Finger.
The second tournament was held at Westlake High School. Westlake played against both Thousand Oaks and Newbury Park in two games. Newbury Park played in the second game at 11:50 a.m. and won with a score of 24 to 14.
Samantha Stewart, Adaptive Physical Education coach, helps advise the Slam Dunkers in their practices and believes the club supports inclusion and helps kids both with and without disabilities learn to grow as individuals.
"We need to keep the inclusion going, getting everybody involved and have fun, and see how rewarding it is to work with other people who are not like us. Learn to grow, learn acceptance, learn compassion. Compassion is a learned trait and I'm just proud of everybody in Slam Dunkers," Stewart said.
The last tournament in the unified league was at Thousand Oaks High School. Despite the close game, Newbury Park won, making the Slam Dunkers undefeated. Jennifer Finger, sophomore and president of Slam Dunkers, coached the team throughout the basketball season and was inspired by her sister to start the club.
"I'm in Sparkles and my sister is special needs, so it's just something I love to do," Finger said.
Finger, like Stewart, advocates for inclusion and believes Slam Dunkers and the Unified Basketball League are great opportunities to break those barriers. "Unified means inclusion for all students and any person no matter what differences they have," Finger said.