Warner Bros. Studio is a tour of magic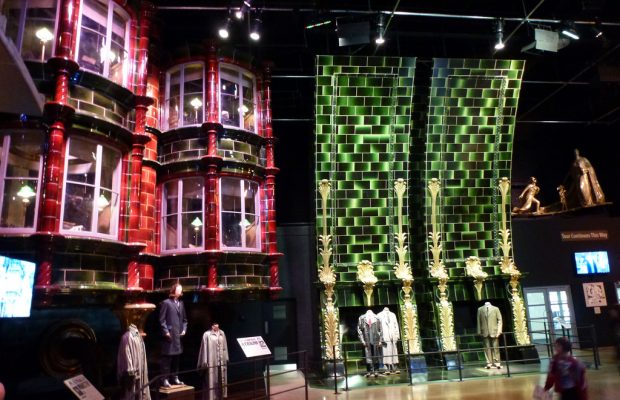 Unlike Universal Studios up the street, Warner Bros. Studio Tour Hollywood is not a theme park, although it bears resemblance to the studio tour ride at Universal. This tour supposedly shows you behind-the-scenes looks at Warner Bros. sets, and teaches you how they produce shows and movies. Packed with a camera, water and enthusiasm, I drove the almost two hour drive to Burbank ready to go.
After being organized into a tram group, I joined the other tourists in a movie theater where we watched a cute film about the history of the Warner Bros. Studio Tour, with Ellen Degeneres clearly photoshopped into almost every scene; hilarious, but unnecessary
Our tram car, basically a large golf cart, had a group of less than 15 people, a nice size, but of course the best seat was near our tour guide, Stephanie, since she was spewing information. Entering through an iron gate, we drove into the studio backlot with the characteristic WB water tower directly in front of us.
Driving on, we passed sets and props like the outdoor military set and props used in a new movie with Dwayne Johnson, "Rampage." Sadly the Rock was not there, neither were any other actors or actresses, but it was still cool to see where they filmed and learn how our favorite movies were made.
The tour continued much the same: we drove past sets, like a painted house or neighborhood, and the tour guide revealed what movie or TV show it appeared in, eliciting "oohs" and "ahhs" from the whole car. However, Stephanie also disclosed cinema secrets, including that these exterior sets were just facades, or shells. Sheldon's house in the new TV show "Young Sheldon," is actually home to cubicles for the Human Resources Department.
To my delight, throughout the tour, more and more secrets were revealed, like how they used a jungle set less than a mile long to film the running scene in Jurassic Park where they are running away from dinosaurs, a scene that is at least five minutes long.
Past the jungle, Western neighborhoods and streets of New York, we stopped at a self-tour museum, the bottom level featuring DC comics and the second floor exhibiting the Harry Potter universe with a focus on "Fantastic Beasts and Where to Find Them." It blew my mind how many actual costumes and props they had on display, although the Harry Potter floor was definitely the best. They even had a talking sorting hat that sorted you into a Hogwarts house.
Three more exhibits stopped us before the end of the tour, and they got better and better. The first stop was the Warner Bros. Prop Department, and next we visited the Batcave, a large warehouse that held more than nine different batmobiles and cars used in the Batman saga, as well as a working bat signal, celebrating 75 years of Batman. Our third stop was the set of the Ellen show, unfortunately the only time we went inside a set as opposed to just looking at it. No Ellen Degeneres to greet us, but we learned more about how the shop operates, and fun trivia like how the carpet is "Ellen Blue," the shade of Ellen's eyes.
All too soon our tour came to an end, but, before we hit the gift shop, there was one last exhibition, arguably the best part of the tour. Called Stage 48 (even though they only have 35 sound stages across their California locations), the last spot of the tour was an interactive gallery. It featured classic costumes from old movies like "Casablanca," the "Friends" set and a walkthrough of the stages of movie production, from writing to casting to costumes and more. I sat  in Central Perk Cafe and used special effects to become a giant on screen, fly a broomstick, and control the movements of an animated character.
Probably the most disappointing part of the tour was the gift shop, it was rather small, and it was also disappointing that I could not see my favorite set, from the television series "Gilmore Girls." However, I loved the tour, and recommend it for entertainment enthusiasts; they are fun mixes of entertainment history, technology, real props and costumes and after all, who doesn't want to fly a broomstick?