Boys' golf swings towards their goals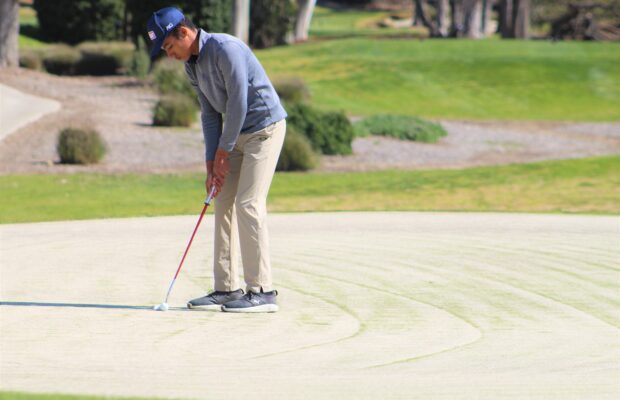 The boys' golf team stands together, watching their teammate send the ball soaring into the hole, and listening to spectators' applause ring across the course. Since the season's start, everyone on the team has been working to improve their technique, as well as mentality, so that come playoffs they can reach their ultimate goal of placing first in their league.
On this climb to success, the boys have faced many challenges that, when overcome, helped to prove the athletes' talent to themselves and those around them. While other sports are physically demanding, Julian Kim, junior, recognizes that the hardest aspect of golf is the mentality. "It is surprisingly difficult to keep yourself in check when you know you can be playing better," Kim said. "Sometimes things just don't turn out well or the way you want, and you end up losing your composure, and that only makes you play worse."
Members of the team have to put extra time into preparing themselves for this situation, and knowing how to bounce back. Matthew Cerio, senior, feels that one of the most valuable lessons that golf has taught is to not let small complications get into his head. "At the end of the day, you have just got to keep a level head. You can't get angry at bad shots. You just have to move on…You have got to keep pushing, in golf and in life," Cerio said.
There are many other lessons that team members have learned from their time on the course, all of which they will carry throughout different aspects of high school, such as academics and social issues. Chase Bishop, sophomore, believes that golf has turned him into not only a stronger athlete but also a stronger individual. "[Golf has] made me more confident in myself, and probably more confident in general, outside of golf as well," Bishop said.
Golf has helped the athletes become stronger problem solvers. Andrew Skenderian, sophomore, looks forward to the rest of the team's season and eagerly awaits being able to demonstrate all the improvements he has made. "Golfers just naturally can get faced with a problem, and they can just take it step by step, calm down and solve it," Skenderian said.
The members of the NPHS boys' golf team feel lucky to have chosen a sport that they can play the rest of their lives, as opposed to others, where sports grow more and more challenging due to age. The group also feels fortunate to have team members that they can rely on. "I think everyone on our team is a very genuine and nice person. There's a lot of integrity in the team as well, which holds some value because you know that your team members are always there for you," Kim said.