The NPHS Art Gallery evokes emotion and admiration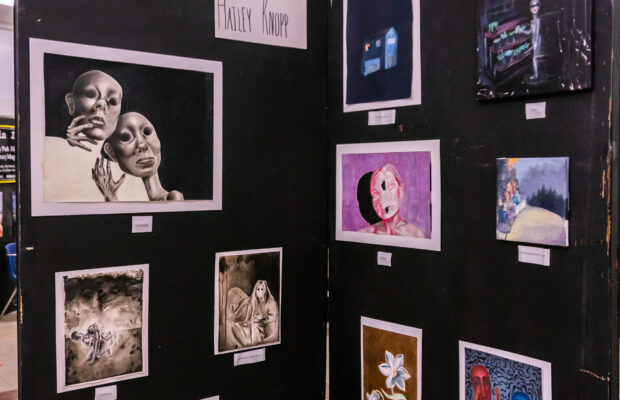 From March 13 to 16, students from different artistic backgrounds and creative expression outlets demonstrated their works in the NPHS cafeteria. Across all the tables, giant black posters were set up, each one displaying a different student's art. Filled with friends and family of the artists – or even just art enthusiasts – the annual art gallery made for a beautiful collection of self-expression and deeper meaning by allowing students to embrace their artistic side and share their messages in various ways. The gallery is made up of AP Photo students, taught by Mr. Lindroth, and AP Studio Art and Art Media students, taught by Ms. Acosta. The gallery also includes students who are not enrolled in NPHS art classes but want to demonstrate their work anyway.
Bilal Merchant, junior, submitted his art gallery pictures from all over the world. His collection of works included photos from Italy, Switzerland, Toronto and his home of Newbury Park. The gallery allowed Merchant to experiment with new styles of photos and use the camera in ways he never had. "I learned how to play with the aperture and exposure to get a photo that fully encompassed what I was looking at," Merchant said. Not only did Merchant enjoy the creativity within his own showcase, but he values the unique experiences that each individual is able to present and express through their separate artistic ways. "It's really cool to get together and see other people's content, their art and their vision. There's a lot of different avenues where you can take this art and I really enjoy the overall display," Merchant said.
Hailey Knopp, senior, chose a unique avenue by creating an impactful collection of works that drew attention from the audience. Knopp believes that by having a thematic element of uncomfortability, it evokes a strong emotion that really affects her audience.. She had multiple works but one of the most meaningful pieces to her is the one she named "Subconsciously Lost" where a human figure is shown seated on a train while images of life pass by them. Knopp explained the painting represented a human's first feelings of consciousness and life as a child. "It's this feeling of having to cope with growing up and developing all these emotions. Sometimes it's really hard to regulate all that and sometimes it's easier to just sit in the comfortableness of childhood. And that's what the train is," Knopp said.
Similarly to Merchant's worldly showcase, Aditi Inamdar, senior, displayed works highlighting Indian culture. "My theme is basically Indian culture and dance so I've incorporated colors from Indian culture like bright blues and oranges and greens and yellows," Inamdar said. Furthermore, Inamdar uses art to express parts of her life that truly define her. "Dance is such a big part of me, especially Indian classical dance and I thought it would be great to incorporate that into my own art," Inamdar said.
Ultimately, the art show proved to be a special environment of expression and creativity. The gallery serves as the finale to a year's work of art. "It's overall really cool to walk around and see other people's portfolios and art because we've put quite a bit of time and effort into it and it makes it all worth it," Merchant said.