Boys' water polo steals the show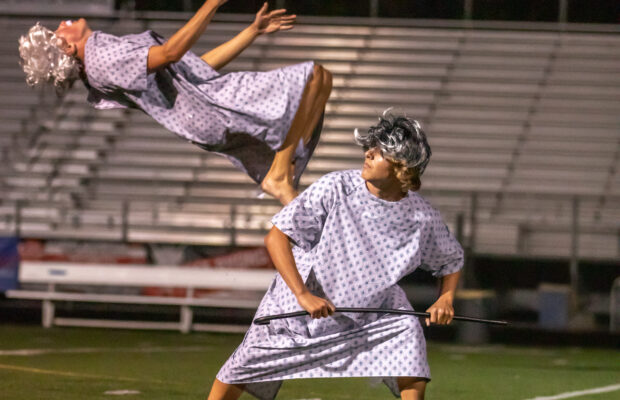 The 2022 Best Dance Crew is boys' water polo! Family and friends gather in the NPHS stadium to watch the annual Best Dance crew event. Students from all aspects of the NPHS programs, such as International Baccalaureate, Water Polo and Volleyball, create a dance to some of the most beloved songs in the world.
Practice
Although spectators of the event see the finished dance, they do not see the hours of effort that each team puts into every practice each year in order to put on a great show for the judges and fans.
Levi Cook, senior and member of the boys' water polo dance crew, describes the practicing experience as exciting in the sense that he gets to dance alongside several of his teammates, even though it sometimes leads to them becoming distracted. "They're pretty good but we sometimes get off task a little during the practices," Cook said.
When it comes to being prepared for the competition on Friday, Oct. 14, Cook expresses how after preparing for the competition for several weeks he feels confident that they will put on a spectacular show for the event and might even make a run for the title this year. "I think we have a pretty good chance […] I'm excited. I'm also confident in our ability to win," Cook said.
Joie Steinkamp, senior and member of the girls' softball dance crew, describes how she loves doing this event every year as it gives her a chance to get out into the world and try new things alongside some of her close friends on her team. "I'm having fun with all my teammates […] and it's just fun to do stuff out of our comfort zone and do it all together," Steinkamp said.
Other Best Dance Crew members have danced competitively outside of school and describe how it has been really helpful to their overall success as a cohesive team. Linda Diaz, senior and member of the International Baccalaureate dance crew, speaks to the fact that dancing outside of this event has helped her team succeed. "I am on a competitive dance team outside of school [at Bobby School of Performing Arts], so that's helped me with the Best Dance Crew," Diaz said.
After putting in hours of work and effort throughout their practices, all teams look forward to the upcoming competition and hope to put on a great show for the judges and fans that come to see them dance.
Performance
The Best Dance Crew Performance was an opportunity for the Cross Country team to relax and enjoy themselves, a break from typical high-stress Cross Country events. Dev Doshi, a member of the Cross Country Dance Crew, used to the stress of cross country events did not feel much pressure associated with the performance. "We didn't have much pressure attached to the outcome and you were competing against your own school so it was fun to watch others dance and what they came up with," Doshi said. The cross country athletes did not care much about the result; what mattered to them was doing something other than running together as a team.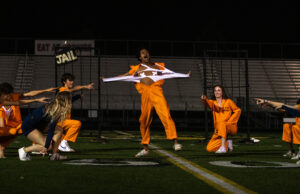 IB Dance Crew got the stadium cheering with a perfect score from the judges. Adi Chattopadhyay, a member of the crew, felt initially upset after the results were announced. "We thought we deserved first but we had fun and [water polo] deserved it," Chattopadhyay said. Though a senior, Chattopadhyay says he would participate in Best Dance Crew again if he could. "[My favorite part] was when me and Lucas jumped over two of our friends and seeing everyone and knowing that the energy was high," Chattopadhyay said. Nevertheless, the team cared more about the overall experience of performing for the school and the memories made throughout the process.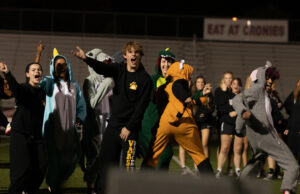 Jacob Richey, a junior on the volleyball team, enjoyed the atmosphere and performing in front of the packed crowd. "My favorite part of the performance was the feeling of dancing in front of everyone and the energy that was in the air all around," Richey said. Richey, who thoroughly enjoyed the dance, felt a rush of adrenaline towards the end of the dance and is looking forward to participating in Best Dance Crew again next year. "I would love to do dance crew next year and hopefully bring Boys' volleyball a win during my senior season," Richey said.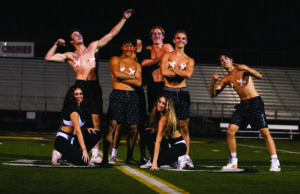 Winners
The boys' water polo team and coaches, Lucy Garret and Mia Nelson, perform one final dance after all the groups perform and before voting for the winner in the Panther Stadium. This final dance with all the other groups was performed just after the boys' water polo team performance. The coaches helped to pick their theme, which was Grandpas. The performance consisted of many dancing grandparents and also a 'flashback' to when they were young. "Last year, we did a really good theme that was like synchronized swimming. We wanted to try and talk about this year. And we're just thinking of really funny things and looking at good costumes that no one else would think of. Then we kind of just landed on grandpas, and so we just rolled with that," Nelson said.
The boy's water polo team holds up their trophy after being voted the Best Dance Crew for the 2022 school year by the event attendees in the Panther Stadium. The team's performance of dancing grandparents won the crowd over in a close vote with the tight competition of other teams such as IB. The team had varying doubts about whether or not they would win. Team member Grayson Ing and Coach Mia Nelson both had an opinion: "I thought we were [going to win]," Ing said. Nelson followed up with; "I don't know if us coaches did [think we'd win] but the boys were motivated."