Cheer team bounces back into season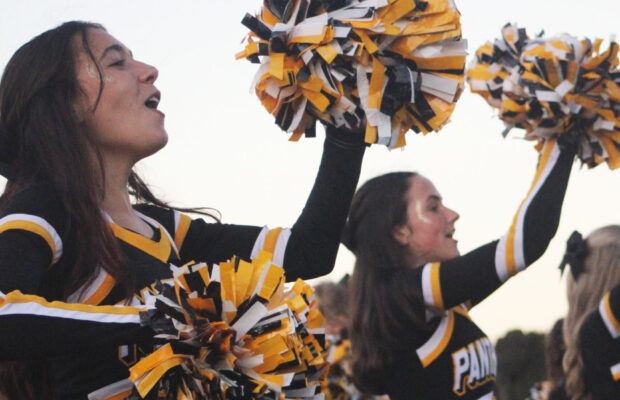 Black and gold, let's go! The junior varsity and varsity cheer teams make their way back on the field as the new season gets started. Because of the year gap from the pandemic, a lot has changed since the first time they were back on campus.
The teams are currently recovering from the limited season they had last year, as they try to get back into their normal routines and practices. Michela Maher, senior and captain of the varsity team, has been an avid cheerleader for the NPHS team all four years of her high school experience. "Just last year we had very shortened and limited practices… you are very distanced and that definitely impacted a lot of cheer because most of what we're doing is being in close quarters together," Maher said. "[Now,] people who are vaccinated are given the option to take off their masks [during practice] and we are allowed to stunt… everything's almost back to normal which is awesome."
When COVID-19 first hit, the cheer teams were struck very hard. Ryann Butcher, the assistant coach for the teams, has only been coaching since June, but has already experienced the effects the pandemic has caused when the cheer team was forced into change. "The team couldn't practice, couldn't work on new skills, and were just stuck in a bad position," Butcher said.
However, even with these complications, the teams are still managing to stay positive. "My favorite part about the cheer team is the personalities these girls have and the energy they bring to practice everyday. They push themselves more than we ask because they know they are capable of more," Butcher said.
Even as time went on and COVID-19 cases went down, both teams still needed to take safety precautions over the summer. Ever Irete, sophomore, is having her first time experiencing being a part of the JV team this year and has felt the effects of the pandemic even during their practices. "Some people on the team tested positive and couldn't come to practice, and so our August practice got canceled so that restricted us for a whole week of preparing," Irete said.
After months of restricted practices, the teams began adding extra practice time to their normal schedule in order to prepare for upcoming games. "We had like two or three cheer practices before our first game, after a three week break, so I think that restricted us from working on a lot of new spending skills, but I think with the extra practice that we've added in every week, we've gotten a lot done that we missed out on," Irete said. The cheer team performs during every football game in their season and they plan to cheer at the basketball games as well.
Despite all of the obstacles presented to them, the teams have not given up and have persevered through these hard times. "It looks like we have a full season of cheer with football season and basketball season. We started practicing in June and have been practicing since then." Butcher said. Overall, the cheer team is excited and ready to have a full regular season. "I've been looking forward to a full varsity season since my freshman year and I'm just so excited that I finally get to have that with all of my best friends," Maher said.