Class of 2022 celebrates with Senior Sunrise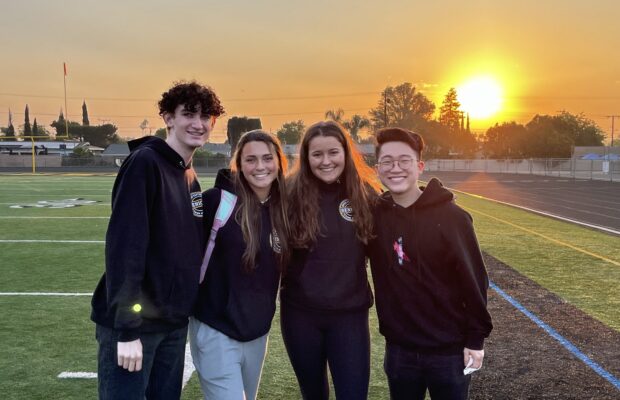 As school returns to normal, the class of 2022 gathered together to celebrate the first senior event of the school year. On Sept. 29, seniors filed onto the football field to experience the annual Senior Sunrise.
Thea Duc, senior class vice president, is one of many who have been in charge of the planning behind this school event. "Senior Sunrise is a fun senior activity where all of us get together on the football field and have an early and chill morning," Duc said. "This year was actually only the second school-associated Senior Sunrise we've had at NPHS, so it was super fun to get the new tradition rolling again. We played music, had donuts, and took lots of pictures."
Compared to the many events planned for the school year, this is definitely one of the senior class board's favorite events to plan. "We had to order around 750 donuts from Judy's Donuts…[and] also made posters so that we could welcome all the seniors. Seeing the class board's work come to life at this event was so gratifying because I'm so happy we get to give the seniors an activity-filled year," Duc said.
Having played a large role in planning this event, Carter Kawaguchi, senior class president, is excited to see what future members have to continue. "I think we are just starting to make it become like a larger event for future senior or future senior classes, and [we hope to] maybe have some performers come in or have more like games or food options," Kawaguchi said.
This is an event that many seniors look forward to since the beginning of their high school years. Lexi Hodder, senior, was glad to have the sunrise experience with the rest of her friends, especially as her first senior event. "Senior Sunrise is just an iconic event; everyone talks about it, and especially since the pandemic happened, we couldn't really do a lot of like senior-oriented events. It made me want to go to this event more now that I have that opportunity," Hodder said.
Even though it was a different experience from the usual school events presented, it was one that many students enjoyed. "I don't like getting up early really but it was kind of cool to go to school before pretty much the rest of the students, and the sunrise was really beautiful that day," Hodder said. "I just like being with my friends super early in the morning because I could finally drive my friends…and it was just fun listening to music and taking pictures."
Overall, the event was a favorite among the students, and for the first senior event of the school year, it was very successful. "I think for the seniors that attended, they all generally said that they had a great time and that even if we didn't have like a ton to do other than just like music and food, I think they had a relative time just to be there with their friends and start off the senior year," Kawaguchi said.