Clemson takes surprise victory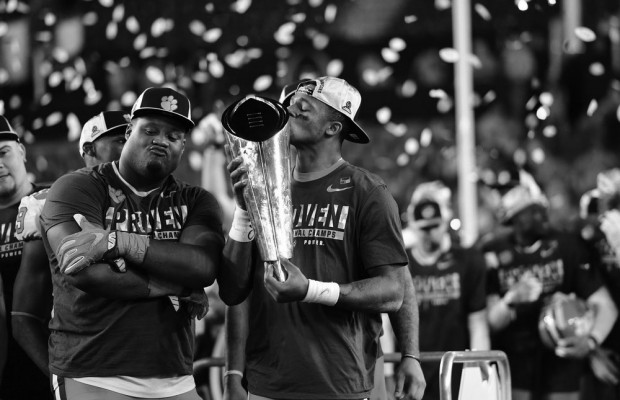 What a game! The heavy favorite, Alabama, was taken down by Clemson. The game was an instant classic as Clemson scored a touchdown in the final two seconds of the game to take the lead and win the national championship.
This win is Alabama coach Nick Saban's first loss in a national championship game. Last year, Clemson lost to Alabama 45-40. The reigning champions were dethroned for the first time since September 19th, 2015. This was Clemson's first win against Alabama since 1905.
In the semi final game, the Clemson Tigers stumped the number 2 ranked Ohio State Buckeyes by winning 31-0. In the new College Football Playoff system, the BIG 10 conference has not scored a point in the two years since the system has been in place.
The Tigers overmatched the Buckeyes in every aspect of the game. Even in the end, Clemson put their second string players and came into the championship game looking strong.
In the other semi final game, the Alabama Crimson Tide defeated the Washington Huskies 24-7, and handled them with ease. The Crimson Tide started the game with a rough start and did not turn it around until the end of the second quarter when Alabama's linebacker, Ryan Anderson, intercepted Washington quarterback, Jake Browning, and returned it for a touchdown. That gave Alabama a 10 point lead and momentum going into the second half.
The Huskies' offense could not get anything going the rest of the game. The only weakness Alabama showed was that Jalen Hurts, the Alabama quarterback, was sacked three times and completed only seven of his fourteen pass attempts for 57 yards.
The championship game posed Alabama, who was ranked as the number 1 team in the country, and favored by 6.5 points, versus Clemson. The two teams battled for the first half in a low scoring affair. Going into the 3rd quarter, the score was 14-7.
The Tigers made their comeback in the 4th quarter scoring 21 points and demolishing the defense of Alabama. Heisman Trophy Award runner-up, Deshaun Watson of Clemson, took over. He threw for 420 yards and four touchdowns (three throwing and one running) against, what people thought to be, the nation's best defense.
In the last two minutes of the game, Watson took his team from down three to throwing the national championship winning touchdown. Clemson's head coach, Dabo Swinney, knew that they would win the game because they "love each other."