Comments from Mike Dunn spark controversy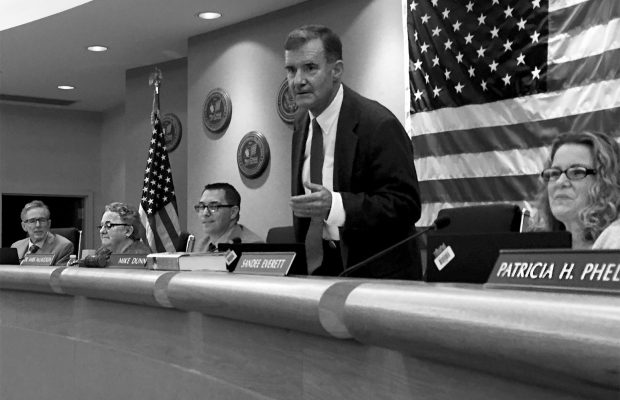 Conejo Valley School Board trustee Mike Dunn is facing criticism for an email attacking Jessica Weihe, a local blogger, which he sent to her employer, Scott Harris.
Weihe is responsible for the well-known "Anonymous Mommy" blog. Weihe's blog is known for its liberal and outspoken opinions. The conservative school board, especially their recent controversies surrounding the opt-in policy, has often been the target of her criticism.
Harris, the owner of Mustang Marketers, which employs Weihe, subsequently shared it with the Acorn, the other CVUSD board members and the Ventura County Superintendent of Schools, as well as sharing it on Facebook.
"Every time she slanders or libels the school district or a school board member during public comments at a board meeting, I am going to respond that Jessica works for Mustang Marketing and that you support her opinions," Dunn's email read.
In addition to forwarding the email, Harris also included his own email response to Dunn. "I support Jessica's right to her views and to expressing them. Her views are her own, not mine or my companies. If you'd like to point out that I support community involvement, community activity and freedom of speech– please do," the email from Harris read.
He went on to identify Dunn's statement as false. "If, as you have threatened, you choose to falsely point out that I support all of her views, none of which she shares with me in advance of the meetings, I am putting you on notice that this is a false statement," Harris said.
Harris concluded his email with the definition of the word slander. "I think if you take the time to read (the definition)– and to follow through with your threat– you'll see you've exposed yourself– and the CVUSD– to a lawsuit," he finished.
In an interview with the Ventura County Star, Mike Dunn responded to the comments in Harris' email regarding Weihe's freedom of speech. "… But slander and libel are not protected speech. … She has hurt a lot of people with her comments, and she has hurt the board, she has also hurt the school district, which hurts the students," he said.
As of Friday, Dunn and Harris were making efforts to set up a meeting.
"It would appear that she is doing this on company time during office hours with (Harris') consent — based on the timestamps of her posts, and has been doing this for months," Dunn continued in his VC Star interview. "If (Harris is) going to hurt the district, if he's going to hurt board members, if he's going to hurt the local economy, then there are going to be consequences. … This is all about the kids. This is all about the damage that this woman is doing to the reputation of the local school district."
Additionally, Dunn received emails chastising his behavior towards Weihe. According to Weihe's blog, many of these people received an email response from Dunn. His email referred to Weihe as a "cyper (sic) bully."
"Scott Harris's approval of Jessica Weihe's cyber bullying is part of a nationwide attack on republicans, conservatives and Christians," he said in the email. "Where is the sympathy for all the people Jessica Weihe has attacked and hurt with her cruel cyber attack?"
Weihe also published screenshots of both Dunn's email and Harris' response on her blog and a statement that she will further look into legal action. In another post, she attached an email she sent to board member John Andersen about the incident.
"This is indefensible and illegal," Weihe said of Dunn's original email to Harris.
"And here we sit, three days since the first email went out from Mr. Dunn, without a single statement from you, our board's president. Is it not your job as board president to uphold good governance?" Weihe's email finished. "This community is waiting for a response. I am waiting for a response. My employees, who fortunately are defending my right to free speech, whether they agree with my opinions or not, deserve a response. Silence implies complicity."