Fall Vibes: November Music Suggestions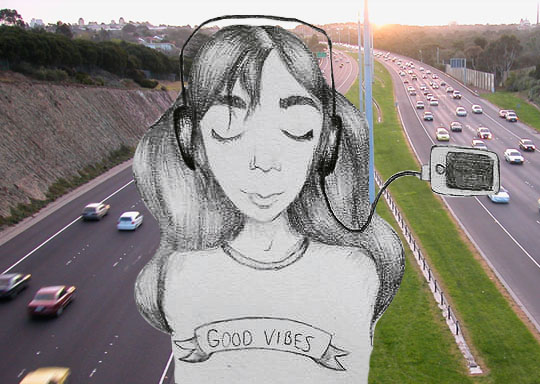 To go along with those rustic No Shave November vibes, here is an indie playlist for all of you suburban hipsters.
"Edelweiss" by the Sound of Music cast – Although not even slightly a 21st century indie song, "Edelweiss" is still on my "must listen" list. (You can never go wrong with Julie Andrews). The song is sweet and innocent through its simplistic lyrics and almost acapella voices aided only by a piano. Without even watching "The Sound of Music", one could listen to "Edelweiss" and wholly understand the meaning portrayed by the Academy Award winning film.
"Cigarette Daydreams" by Cage the Elephant – "Cigarette Daydreams" is exactly like its title: Depressing lyrics somehow perfectly contrast its sweet tone. Miraculously, Cage the Elephant not only explains but celebrates all those dark thoughts that have been rushing through your head. Even though I don't believe their music will help you feel less blue, it is nice to find songs that embrace exactly how you feel.
"Tripping Down the Freeway" by Weezer – If pizza was a band, it would be Weezer. Their music provides the homely feel of comfort food while appealing to all ages. "Tripping Down the Freeway" is like the pepperoni on the pizza; it acts as the extra finesse on top of the already lovable pizza through its catchy pop punk vibe.
"Sad" by Pearl Jam – Pearl Jam is the epitome of angst. With its classic guitar and drumming style tied in with hoarse vocals, Pearl Jam is like Cage the Elephant's older brother who amplifies the same meaning in a more grunge punk way.
"Tom Sawyer" by Rush– If you haven't listened to "Tom Sawyer", you have missed out on one of the best classic rock songs. Blending the line between classic and psychedelic rock, Rush takes a stab at social issues in an easy to understand manner. The song also starred in "Freaks and Geeks" which is pretty on point for featuring key rock songs.
"Three is a Magic Number" by Blind Melon – Blind Melon celebrates comical nonsense through its cover of "The Schoolhouse Rock"'s debut "Three is a Magic Number". Indeed it is still a simple song about counting numbers, but it is a perfect representation of Blind Melon's light and out-of-the box style.
"Female Robbery" by the Neighbourhood – The Neighbourhood is actually a local NEIGHBORHOOD band whose members actually went to NPHS, which just makes their music a million times better. They have sadistic Weeknd-like lyrics which might sound like a turn off but in reality makes their sound more attractive. Through their drawn out guitar strumming and apathetic vibe, The Neighbourhood forms a friendship with the monsters under the bed of your mind.
"Father of Mine" by Everclear – Everclear

rocks

, literally. They stick it to the man. "Father of Mine" shows the stupidity of sexualizing "daddy issues" in a gritty, relatable way.

"Just One Drink" by Jack White – Although not as stellar as before in the White Stripes, Jack White's solo still rocks your socks off. He provides an edgier blues vibe which was much more toned down and commercially packaged in the White Stripes. Don't get me wrong, I want Jack and Meg to get back to together more than anyone else, but as an individual artist, Jack is able to provide a fresh aspect to blues music. "Just One Drink" flows very well with the rest of his debut album while still being unique.
"Wasted" by Cartel – As a throwback to that middle school pop punk/emo phase, "Wasted" is the perfect addition to this list. It is super catchy and easy to follow lyrically (which is much needed for sixth graders). If you want something to headbang to while still not wanting to envelop yourself in emo fad, the Cartel (band not drug conglomerate) is the way to go.
Find this playlist here on Spotify!