Figure skaters spin across the ice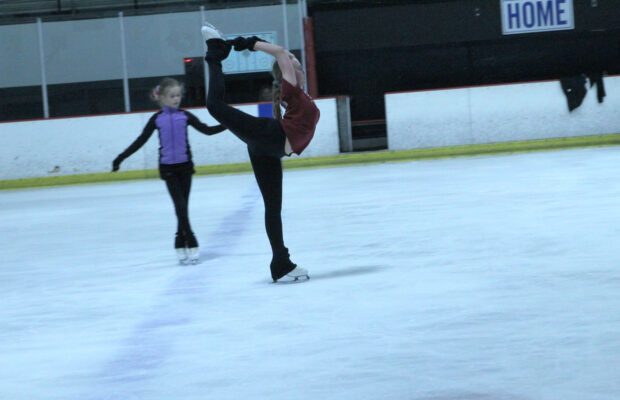 Living in California, where the cold is a rarity, figure skating is often an overlooked sport. However, whether skaters are drilling double flips or refining their balance, they are passionate about the sport they devote their time to.
Clare FitzGibbon, a junior at Newbury Park High School, started figure skating at the age of nine. "My mom had a friend whose daughter did figure skating and so she inspired me to start taking group classes." FitzGibbon said. "Then my coach asked me if I wanted to take lessons and it continued off from there."
Madeleine Martin, freshman at NPHS, first fell in love with the sport after watching a "Peppa Pig" episode featuring ice skating. "I was very interested so I convinced my mom to sign me up for classes and I have been skating since," Martin said. For Martin, ice skating is not just about the sport, but it is also about the value of friends and coaches.
Martin's schedule is filled with ice skating, so finding time for her school work can be challenging. "I balance school and skating by doing homework during classes when we have free time. Also, I do homework during my break and sometimes during lunch," Martin said.
Coaching for around 35 years, Nadine Graziano was a figure skater as a child, competitively training six hours per day before and after school. Graziano is eager to share her love for figure skating. "My favorite thing about coaching is watching the smiles on my students' faces as they achieve their goals. Big and small. Whether it's landing a new jump or just something simple," Graziano said.
Graziano has had experience with coaching different age groups with many different levels of skating. "I approach each skater differently as needed. Some need a softer method and more confidence building. While others need a stronger and tougher approach," Graziano said.
Teaching students on the ice may seem like the main goal when coaching ice skating, but training off the ice is just as important. "As far as teaching my students something different besides ice skating… They do off ice stretching and exercising," Graziano said.
As with many other sports, figure skating comes with many challenges inside and outside the rink. Anna Orsa, a freshman at Simi Valley High School, has been skating since 7 years old. "I often compare myself to others, making me feel unworthy and not confident. It is also very difficult to take breaks in skating. I have had to skate with stitches and a pulled hamstring in a competition," Orsa said.
While sometimes athletes focus more on the physicality of the sport, there are also many positive experiences and moments shared among teammates. "My favorite thing about being a figure skater is the feeling of enjoyment you get when performing," Orsa said.
Participating in solo competitions and practicing everyday has led Fitzgibbon to find her favorite features of the sport. "My favorite skating thing would be a double flip," Fitzgibbon said. On the other hand, Martin values her friends and coaches that she has met along the way.
Balancing school and sports in a teenage daily life is a demanding requirement, however, FitzGibbon, a full IB student, can accomplish school work while finding time for the sport she enjoys. "What I try to do is whenever I have available time I do my work and also I try to get it all done at school," Fitzgibbon said. "This often means I have to sacrifice social time with friends to skate and study."