Girls' basketball builds trust and teamwork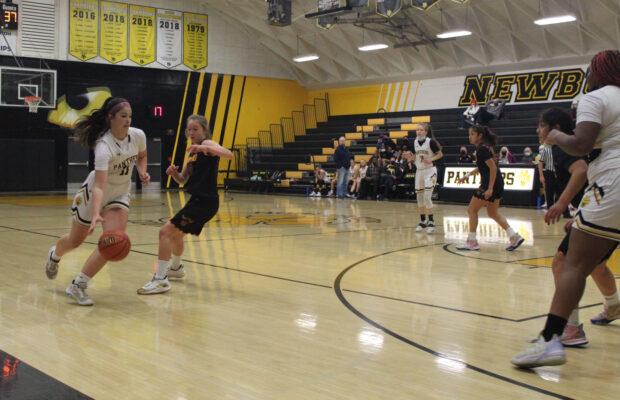 On a rainy Tuesday afternoon, Newbury Park girls' basketball took home their first win of the pre-season against Oak Park High School on Dec. 14, scoring 45-20. This victory has changed the outlook of the team and given them confidence to win more games into the new year.
The varsity and junior varsity teams are packed with new players from every grade. The season officially starts in January once the Marmonte League begins, but the team has been competing and practicing in pre-season tournaments to prepare.
Alanna Young, senior and one of the captains of the varsity team, enjoys playing on the team and practicing with new members this year. "I knew there were going to be a lot of new freshmen on the team this year so one of the things I really wanted to incorporate was like if they need anything, I'm there and just having a good environment for them," Young said. To Young, fostering an inclusive environment is a priority as a captain. When she was a freshman, she had a senior on the team who guided her through her high school career and she wants current freshmen to feel that same comfort on the team.
Olivia Antu, junior and point guard on varsity, feels as though much of Young's hopes have come true. "I really enjoy the team first off, we have a really good connection and have great chemistry outside of the sport itself too." The team works like a well-oiled machine, with each member there to support the others. "If we weren't all on the same page we wouldn't be able to really play successfully so I'm really glad I have the teammates I do," Antu said.
Antu's love for basketball started unexpectedly. After playing softball for ten years. She decided to give basketball a shot. "I asked my mom if I could play [recreational basketball] and from there I got on the team and we ended up winning the championship," Antu said. Like many dedicated athletes, Antu also plays for a club team as well and both players enjoy training outside of school.
On junior varsity, Ria Dudhia, sophomore and guard for the team, enjoys playing for her team. "We all get along really well and seem to understand each other pretty well," Dudhia said. For Dudhia, every position on the team is important and contributes to the team's achievements. "All positions are assets to the team," she said. "Guards I feel like help out the most and they are sort of like the core of the team because they're always open when you need them."
Overall, the girls on the basketball team have a special bond that only comes with spending hours on the basketball court. "I just really enjoy the time that we all get to spend and learn and grow together and become better players," Antu said. With the momentum that they have built, the team hopes to win at their next game at Chaminade.